2016's Roadway Fatalities Jump for the Third Straight Year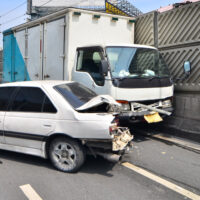 Vehicle safety technologies are constantly improving, with more and more cars coming equipped with features such as lane departure warning and automatic braking systems. Despite these advances, the past three years have seen more and more Americans dying on US roads, a rise in fatalities that many experts attribute to mobile phone use behind the wheel. Read on to learn more about the rise in fatal car accident rates, and contact a New York personal injury attorney if someone you love has been killed in a motor vehicle accident.
Fatalities rise by nearly 2,000 over last year's total
The National Highway Traffic Safety Administration (NHTSA) gathers data on the overall number of roadway fatalities occurring across the country, as well as the causes that local law enforcement believed to be responsible for those deaths, and reports this information each year. According to the NHTSA, 37,461 people were killed on US roads in 2016. This is an increase of 5.6%, or 1,976 individuals, over 2015's total. This means that an average of 100 people were killed every day while in or near motor vehicles in 2016. Since 2014, the total number of roadway fatalities has increased by 14.4%.
Non-vehicle occupant deaths on the rise
Certain forms of roadway fatality have grown at faster rates than others during the past three years. Non-vehicle occupants—a name that refers to those on bicycles, motorcycles, or on foot—have seen an especially sharp rise in fatality rates, with 33% of all fatalities occurring among this group. As of ten years ago, only 25% of all roadway deaths occurred among this group. To that point, the number of pedestrians killed rose by 9% last year, and in the past three years, the total number of pedestrian deaths has risen by 22%.
According to the NHTSA's report, distracted driving-related fatal crashes decreased last year, consisting of only around 9% of all fatal crashes. However, many experts believe that, due to the difficulty in uncovering whether a driver was using a phone at the time of a crash, these numbers are inaccurate. These experts point, among other evidence, to the rise in fatalities among non-vehicle occupants. The smaller an object in the driver's field of vision, the less likely they are to see it if they're only scanning the road ahead briefly while using their phone. Drivers in New York who cause a crash while using their phones while behind the wheel can face serious criminal consequences, as well as liability through a personal injury suit should they cause serious injury to other drivers. A personal injury lawyer can help you mount a claim against the at-fault driver in your crash by gathering evidence and producing accident reconstructions proving the driver's liability.
If you've been injured in a serious crash in the Hudson Valley of New York, get help seeking the money you deserve for your injuries by contacting the seasoned and knowledgeable Goshen personal injury lawyers at Dupée & Monroe for a consultation, at 845-294-8900.