Application of Scaffold Law to Ladder Fall Leads to Liability for Property Owner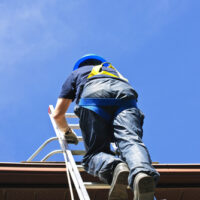 In September, the Supreme Court, New York County, granted summary judgment to the plaintiff on the question of liability in the case of Declercq v. WWP Office, LLC. This means that the defendant building owner is being held liable as a matter of law, and the only issue at trial will be the amount of money damages owed. The case may even settle without a trial now that the issue of liability has been decided by the judge.
The injury in this case occurred when a worker who was cleaning the walls and windows ledges of the subway station at the Worldwide Plaza in New York City fell from the ladder he was using to reach the walls and window ledges. His job involved applying a cleanser to the walls and ledges and then hosing them down. While hosing down a wall, the ladder slid out from under the worker, causing him to fall 20 feet to the floor and sustain injuries.
The plaintiff sued under New York's Scaffold Law, which can be found at Labor Law section 240(1). This law requires contractors, owners and their agents, when contracting for but not directly controlling work, in the erection, demolition, repairing, altering, painting, cleaning or pointing of a building or structure, to furnish or erect scaffolding, hoists, stays, ladders, slings, hangers, blocks, pulleys, braces, irons, ropes, and other devices to give proper protection to a person employed in the project. When a violation of this law causes a workplace accident, the owner or contractor is absolutely liable for the injuries caused to the worker.
The defendant tried to argue that 240(1) did not apply because the activity at hand was mere routine maintenance and not a construction, renovation or repair project covered by 240(1). As the court noted, however, the activity of "cleaning" is specifically covered by 240(1), and since the accident was based on an elevation differential and was the type of gravity-related accident the statute is designed to guard against, the building owner is liable. Had the activity involved routine household or domestic window washing, it might have been considered routine maintenance, but the court held that this particular activity was cleaning as listed in 240(1).