Attorneys Win Judgment of Liability Based on Motion Papers in Poughkeepsie Car Crash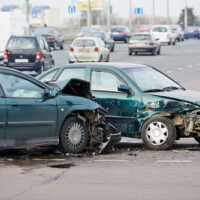 In a decision released last November in the case of Wynter v. Toth, a Justice of the Supreme Court, Dutchess County, granted our motion for summary judgment on the issue of liability in a car accident case we have been working. We were able to establish that the other driver's traffic violation made her liable as a matter of law. A hearing on damages, or how much the defendant should pay our client, is scheduled for later this summer.
The crash took place in the Town of Poughkeepsie back in 2012. Our client was traveling northbound on Innis Avenue when the defendant, who was traveling southbound, made a sudden left hand turn into the path of our client's vehicle. According to the defendant's own testimony, she was stopped at the intersection and saw our client coming before she made the turn. As the defendant stated, "I thought I had enough time to go and I didn't."
New York Vehicle and Traffic Law section 1141 requires that the driver turning left in an intersection must yield the right-of-way to any vehicle coming from the opposite direction which is also in the intersection or is so close as to constitute an immediate hazard. Based on the papers presented in our motion, the court held that our client had the right-of-way as a matter of law, and the defendant clearly violated section 1141 by her failure to yield, which constituted negligence as a matter of law.
The defendant opposed our motion on grounds of comparative negligence, claiming there should be a trial on the issue of liability to determine whether our client's own negligence contributed to the accident in some way. However, the court did not find any evidence that our client was negligent or responsible in any way for causing the accident. Since the defendant's assertions were not backed by any evidence, the judge did not have any difficulty finding the defendant wholly liable as a matter of law and setting a trial date on the issue of damages.