Bicyclist Struck by Pickup, Suffers Internal Injuries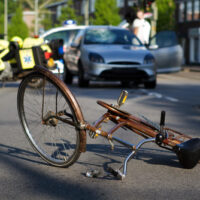 A man riding a bike was recently struck by a pickup truck, forcing him to go to the hospital for his injuries. Jose Urban, 60, was riding his bicycle along the shoulder of state Route 32, near the intersection with Devitt's Circle, in the Orange County town of New Windsor at around 11:30 a.m. on June 7th. Rocco Randazzo, 41, of Cornwall, was pulling onto Route 32 when, according to him, Urban "came out of nowehere," and Randazzo's pickup struck Urban. Urban was taken to Westchester Medical Center to be treated for his internal injuries, and was soon released. The police ticketed Randazzo for the violation of failure to yield the right of way to Urban.
Accidents between bicycles and cars are common, and rarely does a cyclist escape such an accident without injury. According to the New York State Department of Motor Vehicles, there were 6,328 total crashes between bicycles and motor vehicles in 2013, with 40 of those resulting in fatalities. All 40 of those killed were bicyclists. In addition, 6,140 of the crashes resulted in injuries to the bicyclists, approximately 10% of which were serious and 30% of which involved moderate injuries.
Approximately 23% of those accidents were attributed to driver inattention. One common type of bicycle/car accident on more crowded streets is when a driver or passenger opens a car door into a cyclist's path after it is too late for the cyclist to avoid a collision, or directly into the cyclist; this type of accident is known as "dooring." The New York State code governing traffic and vehicles makes it a violation to open a door without determining if it is reasonably safe to do. New York also has a law requiring that cars pass bicycles at a safe distance but doesn't specify the distance. Additionally, a failure by state or local authorities to maintain roadways can cause a cyclist to lose control and crash, possibly meaning that a government entity or contractor may be partially liable for the cyclist's injuries.
As a cyclist, be sure to take steps for your own safety, such as wearing a helmet at all times, and wearing brightly colored, reflective clothing. You may also wish to consider wearing a camera on the rear of your bike or on top of your helmet so that, should an accident occur, you will be able to definitively prove what happened in the crash. If you've been hurt in a bicycle accident, you know how vulnerable you are as a cyclist on the road. A skilled New York bicycle accident or personal injury attorney can help determine who was at fault, and how to best seek the compensation you're owed for your injuries in a crash. Contact the knowledgeable Goshen personal injury attorneys at Dupée & Monroe for assistance with your claim. From throughout the Hudson Valley, call 845-294-8900 for a consultation on your claims.