What are the booster seat laws in New York?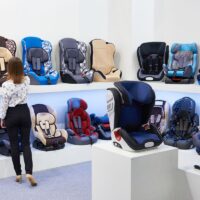 New York law is clear on the requirements for booster seats and other child safety seats and child restraint systems, yet parents don't always know what these requirements are and when they are supposed to upgrade from one type of seat to another. A child who is improperly restrained because they are in the wrong kind of seat or because the seat is not properly installed can suffer additional injuries if they are involved in a crash. Below we explain the New York laws on booster seats. If your child suffered a serious injury in a tragic collision in New York City or the Hudson Valley, talk to the experienced and dedicated NY car accident injury attorneys at Dupée & Monroe in Goshen about getting appropriate medical care, compensation, and justice for your loved one.
Different Types of Child Car Seats
Kids start riding in car seats the day they go home from the hospital after birth, and they spend the next eight years or so in different types of seats before graduating to the regular seat that adults ride in. New York law can be quite specific about what kinds of seats children must use and when, although the rules aren't always so easy to follow. Agencies like the Health Department and the DMV provide some useful guidance to parents in this sometimes-confusing area. Additionally, State troopers hold car seat check events throughout the year. You can make an appointment during such an event in your county and have the state police check to make sure you have the right car seat for your child and that it is properly installed.
According to New York law, all children under eight years old must be restrained by an appropriate child safety restraint system. This means something other than just putting the child in the regular seat and using the seat belt that comes with the vehicle. Different types of car seats are appropriate depending on the child's development, as discussed below.
Infant Seats
Infant seats are appropriate for infants who weigh around 22 pounds or less and are 25 inches or shorter in length. Infant seats are meant to be rear-facing and placed in the back seat. Many models of infant seats have a base that stays in the car and is secured by the car's seat belt system, and an infant carrier locks into the base and serves as the infant car seat.
Built-in child car seats, which are forward-facing and present in many rear car seats, are not meant to be used for infants. Since November 1, 2019, New York state law has required that all children under the age of two must ride in a rear-facing car seat. Child safety guidelines recommend continuing to use a rear-facing seat past the age of two until the child outgrows either the height or weight limits of the seat.
It's a good idea to keep the product information that came with the car seat so you can refer to these facts. Also, it's important to know that these products do expire, and an older seat might fail at a critical moment. If your seat was a hand-me-down from a family member, look up the product information on the seat before you install it so you'll know how long it should last. Child car seats are also routinely recalled for design or manufacturing defects. Registering your car seat with the manufacturer can help ensure you'll be notified of a recall as soon as possible. If your child was injured due to a defective car seat, be sure and contact an injury attorney who is experienced in product liability law as well as car accidents.
Toddler or Convertible Seats
Toddler seats are more chair-like than carrier-like; the child is actually sitting up in the seat, rather than reclining in a rear-facing carrier. Toddler seats employ a four-point harness that keeps the child secure in the seat, along with a tether that keeps the seat secured to the car itself.
Just as with the infant seat, toddlers should stay in their toddler seats until they outgrow the product's recommended height or weight requirements.
Booster Seats
Booster seats become appropriate once the child has outgrown their toddler seat. This typically occurs between four and eight years old, when the child weighs 40 to 80 pounds and is under four feet, nine inches tall.
A booster seat raises the child's height and positions them so the car's seat belt will fit properly, including both lap and shoulder harnesses. Booster seats can be backless and strictly perform a boosting function, although some have high backs that provide head and neck support as well. Whether you need a booster seat with a back or not depends on the construction of your car's seat back and whether the child is properly supported without a booster seat back.
Continue to use a booster seat until the car's lap and seat belts fit the child properly without a booster seat. This typically occurs sometime between the ages of eight and twelve, depending on the individual child's physical development.
When Can Kids Sit in the Front?
Children are expected to ride in the back until age 13, when they can lawfully move up front. The back seat is always safer even after the child turns 13, especially for children who are small for their age. The reason is the risk of injury from airbag deployment in a crash. The force of deployment can inflict injury on a smaller person, including broken bones.
Many vehicles with front passenger airbags have a switch that allows the airbag to be turned off when a smaller person is sitting in the seat to avoid injury or death from the force of being hit with an inflating airbag. This feature prevents injury from airbag deployment, but it also turns off the protection afforded by airbags.
An infant seat should never be placed in the front passenger seat if the vehicle is equipped with a passenger-side airbag.
Seat Belts Required for All
Since November 1, 2020, New York law has required all motor vehicle passengers aged 16 and older to be restrained by a seat belt. Seat belts save lives, and children and adults alike who are unrestrained can incur additional injuries in a crash. Because of the "seat belt defense," the negligent driver responsible for the crash can lower the amount they have to pay in damages if they can prove some of the injuries are due to the crash victim's failure to wear a seat belt. The seat belt defense makes these cases more complex, and it's even more critical to hire an experienced personal injury lawyer to represent your interests and make sure you get the full amount of compensation you are entitled to.
If you need help getting medical treatment and compensation for the harm you suffered after a serious crash, or if you are pursuing another negligence-based claim in New York, contact the compassionate and dedicated Goshen traffic accident lawyers Dupée & Monroe for a free consultation at 845-294-8900.