Call for Age Limits on Motorcycle Passengers after Child Seriously Injured in Crash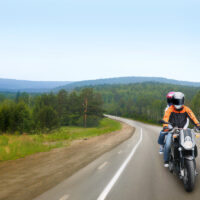 Out of a wish to keep other parents from experiencing the pain and anxiety he felt when his own son was seriously injured in a motorcycle crash, Michael Barone is now advocating for children under 16 to be barred from being motorcycle passengers.
James Barone, 12, was riding on the back of a motorcycle driven by Corey Hoag, 32, on a recent Saturday afternoon along Leeds-Athens Road in Athens, New York. Michael Barone had no idea his son would be riding a motorcycle that day. For reasons not yet determined by an ongoing investigation, the motorcycle driven by Hoag ended up colliding head-on with a passenger vehicle traveling in the opposite direction. Hoag was sadly pronounced dead at the scene of the accident. James was airlifted from the crash to Albany Medical Center, where he underwent emergency surgery. Ultimately, James suffered a collapsed lung, forcing him to spend several days on a ventilator; damage to a kidney, leaving him without a third of the functionality of one kidney; and the removal of his spleen. James spent a number of days in the ICU and will be in recovery for much longer.
Surprisingly, few states have age or size restrictions on motorcycle passengers. Only seven states place limits on the age or size of a motorcycle passenger (Minnesota requires that any passenger's feet be able to reach the footrests to ride). A bill is currently before the New York State Senate which would limit motorcycle passengers to children six years old or older, but Barone argues that the skill required in riding a motorcycle—knowing when to lean, how to hang on—should limit passengers only to those who are older.
While a motorcycle driver might not face criminal charges for having a child ride on the back of his bike, there may still be consequences in the form of a private lawsuit against that driver or his estate, for negligently operating the motorcycle or failing to properly ensure a child's safety while riding. If your child or someone you love has been injured in a motorcycle crash, you know how scary it can be to think that they might not recover. Ensure that you receive full compensation for any injuries or expenses from such a tragic crash. Contact the experienced personal injury and motorcycle accident attorneys at Dupée & Monroe for assistance in pursuing your claims. Call 845-294-8900 for a free consultation on your possible lawsuit.