Dupée & Monroe Brings Child Victims Rights Lawsuit Against New York Archdiocese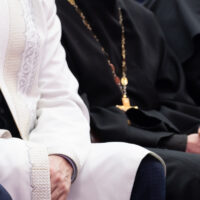 We hold men of the cloth to a high standard of behavior.  Religious officials should, in an ideal world, be morally upstanding citizens who work only for the best for their parishioners and others.  Unfortunately, in recent years we have all learned the ugly truth:  Some officials in the Catholic Church and other denominations were abusing the children in their care.  The truth of these atrocities was buried by the officials in charge for years, and when the darkness finally came to light, many people who were abused as children found that too many years had passed, and they had no legal recompense as a result. 
Thankfully, New York passed the Child Victims Act, enacted to ensure that these victims have their day in court.  The child abuse victim lawyers at Dupée & Monroe are proud to announce that we are helping one of these former victims bring their claims of abuse into a courtroom and into the light.
What is the Child Victims Act?
Most lawsuits have a statute of limitations, a legal time limit after an injurious incident within which a victim must file their claim.  New York's Child Victims Act was passed in 2019 specifically to change the statute of limitations period for allegations of child abuse in both civil and criminal court.  Under the terms of the Act, criminal prosecutors can bring charges against someone who abused a minor until the victim reaches age 25 (for a misdemeanor offense) or 28 (for a felony offense), regardless of how long ago the alleged abuse occurred.
The statute of limitations for civil lawsuits alleging child abuse was extended even further.  Victims of sexual abuse as a minor can now bring claims for physical, emotional, or other injury against a private individual, a private institution, or even a government institution until they are age 55.  Victims already over age 55 also have one year from the date the Act was signed to bring any claims of former child sexual abuse.
New York Archdiocese Covered Up Abuse for Decades
Attorneys from Dupée & Monroe brought this lawsuit on behalf of a young man who was sexually abused while he attended St. John Catholic School and the Church of St. John the Evangelist in Goshen.  Our client attended the school during the tenure of Rev. Edward Pipala, now known to be a notorious abuser of children.  The Reverend committed severe acts of sexual abuse against our client during his seventh- and eighth-grade years. 
Disturbingly, our client was one of dozens of children who were abused during Pipala's decades-long tenure, stretching back to 1975 when he was a high school teacher in Staten Island.  During that time, the defendant Archdiocese of New York had been informed of the ongoing abuse and spent years hiding evidence, silencing victims, and covering up the abuse of Pipala and over a hundred other priests credibly accused of sexually abusing children.
In light of the years of cover-up and the abuse suffered by our client and many other children for decades, Dupée & Monroe filed this lawsuit against the Archdiocese of New York, St. John Catholic School, and the Church of St. John the Evangelist.  We are proud to help our client bring these allegations to the forefront and seek vindication for the wrong he, along with many others, suffered at the hands of the defendants.
Call Our Dedicated and Compassionate New York Child Abuse Lawyers
If you were the victim of sexual abuse as a child or you have a loved one who was abused, you can take action now to hold the responsible parties liable for their actions.  For help with a claim in New York and the Hudson Valley, call Dupée & Monroe in Goshen for a no-cost, confidential consultation with knowledgeable, understanding, and experienced New York personal injury attorneys.