Common Types of Car Accidents in New York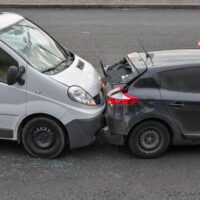 Navigating the roads in the Hudson Valley can be a perilous task, even for the most experienced drivers. While most people make it from point A to point B without any issues, the unfortunate reality is that car accidents do happen. According to New York's Department of Health, motor vehicle traffic accidents are the third leading cause of fatal injuries, ER visits and hospitalizations in Orange County, with crashes here sending hundreds of Orange County residents to the hospital every month and taking two lives, on average. Read on to learn about the most common types of car accidents in New York, and contact Dupée & Monroe, P.C., in Goshen if you or a loved one has been injured in a crash in the Hudson Valley.
Rear-End Collisions
Rear-end collisions are among the most common types of car accidents, often occurring at stoplights or in heavy traffic. The person who hits the car in front is typically at fault, usually due to distraction or failure to maintain a safe following distance. Such accidents can cause whiplash, back injuries, and damage to both vehicles.
T-Bone Accidents
T-bone or side-impact collisions happen when the front of one vehicle collides with the side of another. These types of accidents are common at intersections and can be especially dangerous, leading to severe injuries such as broken bones or traumatic brain injuries. Occupants of a sedan who are struck by a taller pickup truck or SUV are especially vulnerable to serious injury or death in a T-bone crash.
Head-On Collisions
Though less frequent, head-on collisions are often devastating when they do occur. They usually happen on highways or two-lane roads where drivers may veer into the opposite lane, either due to impairment, distraction, fatigue, or aggressive and reckless driving. The force of impact in head-on collisions often causes catastrophic injuries or fatalities.
Multi-Vehicle Accidents
Also known as pile-ups, multi-vehicle accidents involve three or more cars and are most common on busy highways. These accidents can be complex to resolve due to multiple parties being involved, making it critical to consult a personal injury attorney experienced in handling such cases.
Single-Vehicle Accidents
Not all car accidents involve multiple vehicles. Single-vehicle accidents happen when a car collides with a stationary object like a tree, guardrail, or even a pedestrian. While driver error is often a contributing factor, external conditions such as poor road maintenance or defective vehicle components may also be at play. Some lane departure accidents are "phantom vehicle accidents" caused by the actions of a negligent driver who doesn't make contact with the vehicle but nevertheless forces them off the road.
Hit and Run Accidents
Leaving the scene of an accident is illegal in New York, but that doesn't stop some individuals from fleeing. Hit-and-run accidents create challenges in identifying the responsible party, making it essential to gather as much evidence as possible immediately following the incident. Hit-and-run accidents are especially dangerous when they leave an injured victim without medical aid or attention. Unfortunately, these kinds of accidents have been on the rise in New York in recent years.
Help With the Full Range of Car Accidents in the Hudson Valley
Being aware of the common types of car accidents can help you stay vigilant and possibly avoid a devastating situation. If you do find yourself involved in any type of car accident in Orange County or the Hudson Valley, the attorneys at Dupée & Monroe, P.C. are well-equipped to provide the legal guidance you need. With extensive experience in personal injury law, our team will work diligently to ensure your rights are protected and help you secure the compensation you deserve. Call our Goshen law office at 845-294-8900 for a free consultation and immediate assistance with your claim.