Construction Accidents on the Rise in New York as Building Boom Continues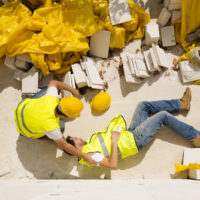 The New York Times recently ran an article pointing out what we who deal with protecting the rights and interests of construction workers and their families know all too well: as the rate of construction of more and more buildings goes up, so do the rates of accidents and deaths of construction workers and bystanders such as pedestrians walking past construction sites. In just the first five months of 2015, eight people died in construction accidents in New York City, as many as in all of 2014, and five more than the three who died in all of 2013. In 2014, there were 231 construction-related accidents in New York City, a 24 percent rise over the number of such accidents in 2013.
The construction-related deaths and injuries in New York City are representative of the fact that such accidents can occur in a wide variety of scenarios and are often preventable. In one situation, a 12-ton air conditioning unit broke free from a crane and fell 30 stories to Madison Avenue where 10 people were injured as a result. In other recent accidents, a worker fell off a ladder to his death, another fell off scaffolding at Times Square to his death, and another worker doing work on a hotel fell through a hole in the scaffolding, falling eight stories to his death.
Employers and developers have a legal obligation to prevent such worker deaths and injuries, which includes following state and federal guidelines. Industry figures indicate that developers spent over $36 billion on construction spending in New York City in 2014 alone. While employers and developers may be focused on their return on investment, this does not justify cutting corners at the expense of worker safety, and employers and developers can be held accountable in court for their failures to protect the safety of workers and bystanders.
Construction-related deaths and injuries are of course not just limited to those occurring in New York City, and are indeed an unfortunate aspect of construction work through the Hudson Valley and throughout the state of New York. Our attorneys are prepared to investigate and litigate cases related to deaths and injuries occurring from construction work involving scaffold accidents, ladder falls, forklift accidents, crane accidents, slip and fall accidents, trenching and excavation accidents, electrocution and burn injuries, defective power tool injuries, and other construction accidents. We work with our clients to obtain compensation for their injuries and their families' losses through workers' compensation actions, and, where appropriate, personal injury lawsuits against those parties responsible for the conditions causing the injuries to occur.
If you or someone you know has been injured or killed in a construction accident, it is important for you to work with an experienced and knowledgeable attorney as soon as possible to fully investigate the facts and make sure your rights and interests are protected from the outset. The attorneys of Dupée & Monroe have been helping people for decades who have been injured on the job or due to the negligence, carelessness, or recklessness of others. Contact the experienced Goshen construction accident attorneys at Dupée & Monroe for a free consultation on your construction accident claim at 845-294-8900.