Crane Accident Reveals the Complex Ins and Outs of New York Construction Accident Litigation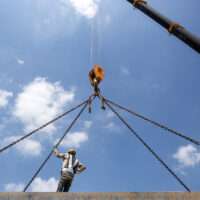 Personal injury cases can often involve complex civil litigation, with multiple defendants all pressing claims against one another to try to avoid liability and pin the blame on another party. This is particularly the case in construction accidents, where property owners hire a contractor who hires subcontractors who in turn hire their own subcontractors. When a construction worker is injured, determining which party or parties are liable can be complicated.
A case in point is Field v. New York University, a case handled by Dupée & Monroe back in 2004. In this case, New York University had hired Corporate Interiors Contracting, Inc. to make some renovations to one of NYU's buildings, Kimble Hall. As part of the job, Corporate Interiors subcontracted with Eastern Exterior Wall Systems to fabricate some exterior wall partitions. Eastern Exterior, in turn, subcontracted the job of installing the partitions to Exterior Erecting Services, Inc. Finally, Exterior Erecting leased a crane and crane operator from Cranes, Inc. in order to hoist the partitions as part of the installation job.
Our client, Walter Field, was an employee of Exterior Erecting. After the panels had been hoisted and the crane was no longer needed, Mr. Field was in the process of readying the crane to leave the site. Cranes are enormous pieces of construction equipment which deploy outriggers to stabilize the machine's body when the crane is extended. Field was in the process of removing a footing plate so the operator could retract the outrigger. In so doing, Field had placed his hand on the outrigger to brace himself while he maneuvered the release handle. The operator retracted the outrigger while Field's hand was still on it, crushing his fingers.
We sued NYU, Corporate Interiors, Cranes, Inc., and Eastern Exterior under common law negligence and labor law claims. Cranes filed cross-claims as a third-party plaintiff against both Eastern Exterior and Exterior Erecting. NYU and Corporate Interiors also filed cross-claims against Eastern Exterior and Exterior Erecting as third-party defendants.
The original defendants moved for summary judgment to dismiss the cross-claims by Cranes and Cranes' third-party complaint against Eastern Exterior and Exterior Erecting. We cross-moved to set aside the court's earlier stay of the trial or to sever Cranes' third-party action from our client's lawsuit.
NYU argued that it did not supervise, direct or control the work performed at the site at the time of the accident and should therefore be excused from liability as the owner of the property. Exterior Erecting and Eastern Exterior argued that Cranes' claims against them should be dismissed since there was no basis to require them to indemnify Cranes. However, it was not so clear that the defendants did not have control or supervision over the worksite and bear some responsibility for the accident. For instance, there was a question whether an employee of Exterior Erecting negligently signaled the crane operator that it was safe to retract the outrigger. When facts like this are in dispute, it is not appropriate to dismiss a case on summary judgment without having a trial on the facts.
The court dismissed the plaintiff's complaint against NYU, Corporate Interiors and Eastern Exteriors, but allowed us to proceed against Cranes; at the same time, the court denied the defendants' motions to dismiss most of Cranes' cross claims against them. The court did, however, dismiss the third-party complaint against Eastern Exterior because they had no contractual relationship with Cranes. The court also vacated the stay of the trial, as we had requested. It may take a lot of skill and perseverance to keep a case like this alive and moving forward, but we never lose sight of our goal to help an injured worker recover compensation for serious injuries.