Dash Cams: the Ultimate Eyewitness to Your Accident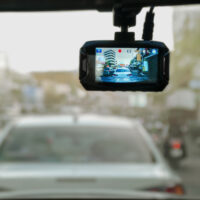 Developments in audio and video recording technology have already transformed how drivers respond to an atuo accident or other incident on the road, whether by enabling a recording of an incident with police, or taking photos and video after an accident. The latest piece of technology with the potential to change how drivers protect their own safety and interests on the road is the dash cam. Learn more about the ways a dash cam might be useful to you, below.
How dash cams work
Dashboard cameras—or, as they're commonly known, "dash cams"—are small cameras which are attached to either the dashboard, windshield, or rearview mirror of a car. These cameras can record what happens in front of the vehicle, with some models able to record video and audio from inside the vehicle, as well as footage from behind the vehicle when attached to a rear-facing camera. Some cameras will even stream footage directly to the internet from inside the vehicle. Dash cams can range in price from as low as $50 to as much as $250, depending on the features included. These cameras record all information taken in by the lens in chunks of three to five minutes, known as loops. As the camera records and the memory card becomes full, the camera will begin to record over the oldest loops.
How a dash cam can be helpful
Now that you know how they work, why would you want one? Dash cams have the ability to provide an account of an accident that can be difficult to challenge. If you're hit by a reckless driver, but that driver leaves the scene of the accident, a dash cam can provide both proof of the circumstances surrounding an accident to your insurer, as well as a potential way to identify the hit-and-run driver. If you and the other driver involved disagree on how an accident occurred or who was at fault, a dash cam can help you prove liability on the other driver's behalf. Additionally, if someone attempts to break into your car, the dash cam can record the break-in, potentially providing the identity of the thief, as well. Dash cams can also offer a means of personal security, if you're parked in an isolated location and getting into your vehicle by yourself, or if you're approached while stopped in your vehicle.
If you or someone you love has been injured in an accident, contact the dedicated, effective, and trial-ready personal injury lawyers at Dupée & Monroe for a consultation, at 845-294-8900.