DMV Issues for Non-Resident Drivers in NY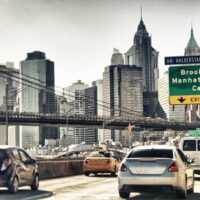 Whether you are driving through New York State for a day or will be a non-resident driver because of a temporary visit, it is important to know your responsibilities as an out-of-state driver.
While non-resident drivers have to adhere to the same laws and regulations as resident drivers, non-resident drivers should be a bit more cautious. Non-resident drivers who are convicted of a traffic ticket or moving violation can be subject to complicated proceedings depending on their circumstances.
Here's what you need to know if you are a non-resident driver in New York state.
Non-residents Driving in New York
You can drive in New York State even if you have a driver's license from another state or country. Unless you are a New York State resident, you do not need to apply for a New York driver's license.
Foreign Nationals Driving in New York
Drivers from other countries do not need to have an international driving permit in order to operate a vehicle in New York State; however, it can help. If you are stopped by law enforcement, an international driving permit acknowledges that you have a valid driver's license in your home country, and the international driving permit will indicate this in several languages.
Driving in New York With an Out-Of-State Learner Permit
New York State allows drivers with a learner's permit from another state to operate a motor vehicle in-state, so long as they meet the following requirements:
The driver is age 16 or older
The out-of-state learner permit is valid outside the issuing state
The driver obeys all restrictions of the state that issued the learner permit.
Like other states, there are general restrictions in New York that drivers with a learner's permit must adhere to. Under the graduated driver's license law, drivers under the age of 18 must also adhere to additional restrictions regardless of whether they have a permit or license from New York or another state.
These restrictions include the New York State general learner permit restriction. If you are under the age of 18, they also include regional junior learner permits and junior driver license restrictions.
A junior learner permit allows a young driver to drive only while supervised.
A junior driver's license may allow a young driver to drive unsupervised with certain restrictions, but this depends on the region they are driving in (Upstate New York, New York City, and Long Island).
Out of State Drivers and New York-Issued Tickets
If an out-of-state driver is cited with a speeding ticket or other moving violation in New York, a record will be established because the state will create an ID number for that out-of-state driver.
If a driver is convicted of a violation, points will be added to their New York driving record. If that driver accumulates too many points, their license can be suspended or revoked in the same manner that a New York state resident's license would be.
The New York non-resident driver's home state may honor the conviction and/or points on a record obtained in New York.
Suspension of Privileges for Non-Resident Drivers
Non-resident drivers in New York can have their privileges to drive in the state suspended or revoked. After the mandated period of suspension or revocation has been satisfied, those privileges can be reinstated.
For a non-resident driver to have their privileges reinstated, the non-resident driver must make a request via postal mail to the NYS Department of Motor Vehicles.
Failure to Pay Tickets
If a non-resident driver in New York fails to pay a ticket or fine imposed on at least 20 different days, they may be convicted of "failure to pay fines" or "aggravated failure to answer tickets." This charge is classified as a misdemeanor and comes with a mandatory fine of about $500. There may also be a mandatory surcharge of at least $80 and in some instances jail time of up to 180 days.
Seeking Legal Representation
If you are a non-resident of New York state who has obtained a ticket, a moving violation, or is battling other issues related to the state's traffic laws, it's important to seek professional assistance. Having a legal representative on your side who understands New York traffic law is critical in helping you minimize fines and penalties you may face. At the law office of Dupée & Monroe, our experienced team can help you get the representation you deserve. Call 845-294-8900 to discuss your situation.