Dupée & Monroe Fights for Client to Avoid Jury Bias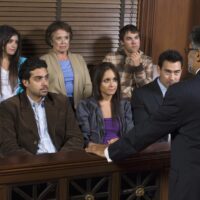 On January 6, 2021, a number of protestors surged to the U.S. Capitol in Washington, D.C. Many of these protestors were later arrested on charges ranging from civil disorder to assault. Regardless of the politics involved, it's vital to our criminal justice system that each and every defendant be given a fair shake and due process. When defendants are prosecuted in front of a biased jury, defendants' rights are violated, and proper justice cannot be secured. Criminal defense law firm Dupée & Monroe has taken up the case of one of the accused defendants, and as with everyone we represent, our zealous defense lawyers intend to make sure that our client is given his proper day in court. For that reason, Dupée & Monroe recently filed a motion seeking to move our client's trial outside of Washington, D.C., where a fair trial would be virtually impossible. For an explanation of the case and the issues at stake, read on. If you've been arrested for a violent crime in the Hudson Valley, call a passionate New York criminal defense attorney for advice and representation.
Grounds for Changing Venue
Defendants accused of a crime in the United States have the right to a trial before an impartial jury. Defendants do not typically have the right to choose their own venue–they are usually tried in the location where the alleged offense occurred–but when jury bias in a given locale is likely to make a fair trial impossible, defendants can seek to move to a different location.
In order to move venues, the defendant has to show a reasonable likelihood that they could not receive a fair trial in the current venue. Often, motions to move venue are based on pretrial publicity. If the defendant has already been "tried by the court of public opinion" in the assigned venue, then the trial would simply be a sham. To grant a change of venue, courts typically require the defense to show that the media coverage has caused actual prejudice to the prospective jurors' minds, or that there has been such pervasive and slanted media coverage that prejudice can be assumed.
January 6 Defendant Would Face Bias in Washington
Criminal defense law firm Dupée & Monroe represents a retired New York City police officer and former marine charged with several offenses related to alleged conduct on January 6 at the Capitol. It's unquestionable that since January 6, there has been an overwhelming amount of coverage of the protests, particularly in Washington media. As more defendants have been arrested and charged with crimes relating to the events, the coverage has intensified. The coverage paints the defendants as a violent band of unruly rioters. Some outlets have even printed pictures of our client, inviting readers to jump to their own conclusions devoid of the kind of context presented in court.
On behalf of our client, Dupée & Monroe recently filed a motion to move venues outside of Washington, D.C. Given the complete saturation of news about the protests in Washington media outlets, the overwhelming population of D.C. having a political bent adverse to the presumed views of any suspects involved, and the large number of federal workers in the D.C. area, any random sampling of jurors in D.C. would be strongly predisposed to convict any January 6 defendant, regardless of the specific evidence presented. As stated in the motion: "As a result of these intimate connections, District residents see themselves as victims of the events which transpired on January 6th." In fact, public polls have shown that 84% of D.C. residents held negative views of the January 6 suspects.
In light of the pervasive bias in the prospective jury pool, Dupée & Monroe hopes that the court will take our concerns into account and permit our client to be tried in a venue where he will receive a fair, impartial judgment, as is his right.
If you are facing criminal charges in or around the Hudson Valley, including Ulster, Orange, or Goshen, contact the passionate, thorough, and zealous criminal defense lawyers at Dupée & Monroe for a consultation on your case.