Dupée & Monroe Scores Huge Victory for New York Car Accident Victim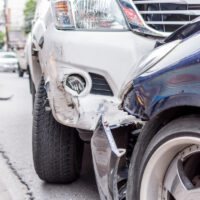 Attorney James E. Monroe, one of our partners here at Dupée & Monroe, P.C., recently won a significant victory on behalf of a client who was injured in a serious car accident.  The court granted our client's motion for summary judgment on the issue of liability, leaving open only how much in damages the client will recover as a result of the harm suffered.  Read on to learn about the case, and contact our skilled Hudson Valley car accident lawyers if a negligent driver injures you or a loved one in New York City or the Hudson Valley.   
Negligent driver breaks laws, causes crash
The case at hand concerns a traffic accident caused by a negligent driver.  On a Friday afternoon, the defendant was driving his 2014 Honda on State Route 42 in Fallsburg.  Facing heavy traffic northbound, the defendant decided to make a k-turn and head back southbound.  In doing so, he crossed a double-yellow line and, moreover, failed to use a turn signal.  As a result, he collided with a 2003 Dodge pickup truck heading southbound.  Our client, the plaintiff, was a passenger in the Dodge truck.
On behalf of our client, attorneys at Dupée & Monroe argued that the primary defendant's actions violated New York's Vehicle and Traffic Law ("VTL").  VTL 1163(a) requires both that vehicles are in a proper position to turn and that they use a turn signal when doing so.  VTL 1130(1) prohibits vehicles from crossing a barrier or double-yellow line.  The defendant violated both sections and struck our client as a result. 
Moreover, Mr. Monroe argued that settled New York law holds that an innocent seat-belted passenger is entitled to summary judgment on the issue of liability where the driver of the other vehicle was clearly at fault for the accident, without needing to wade into complicated questions of comparative negligence which might arise between the two drivers.
The court agreed with Mr. Monroe's contentions.  The court held that a violation of the VTL constitutes negligence per se, and an innocent passenger is entitled to summary judgment regardless of questions of comparative negligence.  With negligence proven as a matter of law, the court was compelled to grant summary judgment in favor of the plaintiff on the issue of liability.  Now that liability has been determined, all that remains is to determine the amount of damages that our client will recover.
Dedicated and Successful New York Personal Injury Attorneys
If you or someone you love has been injured by someone else's negligence in New York, find out whether you're owed money for your accident-related costs by contacting the passionate, seasoned, and dedicated Goshen and Manhattan personal injury lawyers at Dupée & Monroe for a free consultation at 845-294-8900.