Dupée & Monroe Partner Settles Injured Client's Claim for $1.15 Million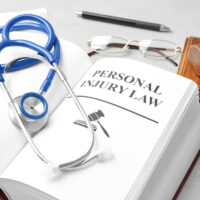 Dupée & Monroe is proud to announce that partner James Monroe has reached an agreement to settle the claims of a driver who was seriously injured in a local crash. The accident victim was awarded $1.15 million in an agreement reached through private mediation. Read on to learn more about the case, and contact our Goshen personal injury lawyers for help if you've been injured in an accident in the Hudson Valley.
Accident victim suffers severe consequences from crash
The accident that changed our client's life forever occurred on January 6, 2016. While driving his car on the way to work one Wednesday morning, he encountered traffic and began to reduce his vehicle's speed. Unfortunately, the tractor-trailer traveling behind him did not notice the slowdown in traffic. The trailer collided with our client's sedan, causing substantial damage to the vehicle and sending its driver to the hospital.
Our client's initial complaints include head and neck pain, as well as pain in the knees and lower back, and many health issues consistent with a head injury. He was forced to return to the hospital three days after his accident due to suffering from pain and a multitude of other symptoms. Despite treatment, the pain did not abate in the months following the accident. Our client underwent surgery in October 2016.
Our client's doctor concluded that the man has been rendered permanently unable to lift anything over 25 pounds, nor can he bend over or stoop excessively. He is also a candidate for surgery on his low back. In addition to his painful neck and back injuries, our client underwent surgery on both knees to treat the discomfort and pain he experienced. These knee injuries have rendered him 100% disabled, according to his orthopedic surgeon.
The effects of the accident on our client were not only devastating physically but also emotionally and professionally. The doctors, psychologists, and neuropsychiatrists who have interviewed our client have all concluded that he is both physically and psychologically unable to ever return to gainful employment.
Previously, our client had been employed in a well-paying occupation. After his accident, he was rendered jobless, dependent on long-term disability and Social Security payments to cover his household expenses, and reliant on his wife to provide his care. Seeing the devastation that this accident brought to the lives of our client and his wife, our team fought aggressively for the compensation he deserved. While money could never restore his previous quality of life, it was the least that those responsible could do to help alleviate his suffering.
If you've been injured in an accident in New York's Hudson Valley, contact the effective and dedicated Goshen personal injury lawyers at Dupée & Monroe for a consultation on your claims at 845-294-8900.