Dupée & Monroe Scores Pedestrian Accident Winning Settlement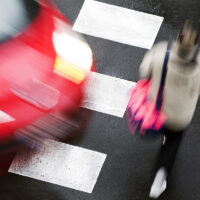 Dupée & Monroe attorneys secured a winning settlement in a New York lawsuit involving a pedestrian accident in Orange County. The trial court in the matter granted our client's motion for partial summary judgment on the issue of liability, leaving open only how much our client is entitled to recover as a result of the defendant's negligent actions. Read on for details on the case, and contact our skilled Hudson Valley personal injury lawyers if you need help after a pedestrian accident in New York City or the Hudson Valley.
Pedestrian Hit in Orange County Accident
On December 7, 2015, just before 9:00 a.m., an Orange County woman was walking westward in the crosswalk across Lake Street near the intersection with Millpond Parkway in the Village of Monroe. As she crossed the street, she was struck by a 2013 Honda. The driver of the Honda was attempting to turn left onto Lake Street when the driver failed to yield the right of way to the pedestrian. As a result of the accident, the woman suffered serious spinal injuries requiring reconstructive surgery. She has suffered ongoing pain and was forced to miss a significant amount of work as a result of her injuries.
New York Court Finds the Driver Was Negligent as a Matter of Law
Following the incident, the woman retained Dupée & Monroe to bring a personal injury lawsuit against the Honda driver. Dupée & Monroe, on behalf of the plaintiff, filed a motion for partial summary judgment on the issue of liability. We successfully argued that the defendant was negligent as a matter of law based on the fact that the driver struck our client while she was crossing the street in a designated crosswalk, in violation of New York vehicle and traffic laws. The court rejected the defendant's argument that the plaintiff was comparatively negligent and found entirely in favor of the plaintiff.
The court ordered the parties to proceed to trial on the issue of damages. Dupée & Monroe will continue to fight on behalf of our client to make sure that she gets the recovery she deserves based on her injuries, her lost wages, and the pain and suffering caused by the negligent driver.
If you or someone you love has been injured by a negligent driver in New York City, Orange County or anywhere in the Hudson Valley region, contact the experienced pedestrian accident attorneys Dupée & Monroe for immediate assistance at 845­294-­8900, with offices in Goshen and Manhattan.