Emergency Responders Liable for Negligence, But Only when Obeying the Law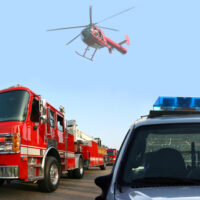 New York Vehicle & Traffic Law section 1104 provides an exemption from liability for police, fire, ambulances and other emergency responders who cause a traffic accident while responding to an emergency. In such situations, emergency responders are only liable if they act with reckless disregard for the safety of others; they are not liable for acts of ordinary negligence like other people who cause automobile accidents are. Section 1104(b) specifically allows emergency responders to violate certain traffic laws, while section 1104(e) holds responders liable only if they act with reckless disregard for safety.
In Kabir v. County of Monroe, the Court of Appeals held that the exemption in section 1104(e) only applies when the responder is violating those traffic laws during an emergency – such as speeding or running a red light – which are listed in 1104(b). This means that an officer or firefighter responding to an emergency but obeying traffic laws would be liable for negligence. In other words, officers who obey the traffic laws (and are arguably driving more safely than a responder speeding through intersections) are more exposed to liability than those who are violating it.
Several courts have followed Kabir's lead, holding police and firefighters liable for negligence during an emergency if they weren't violating an enumerated traffic law at the time of the accident (see Fajardo v. City of New York, Gonzalez v. City of New York, Nikolov v. Town of Cheektowaga). Legislators who believe the intent of 1104(e) was to apply to all actions during an emergency rather than just 1104(b) violations have introduced several bills to clarify the law post-Kabir:
S1175 provides that no cause of action may be brought for damages as a result of the operation of an emergency vehicle when the operator was engaged in an emergency operation. In addition to immunity from prosecution for violating a traffic law under 1104(b), there is also no liability for negligence during an emergency.
S99 exempts emergency vehicles from obedience to traffic laws when involved in emergency operations. This bill deletes 1104(b) and applies a reckless disregard standard for all conduct during an emergency.
A03857 adds another exemption to 1104(b), stating that responders may operate an authorized emergency vehicle in any manner necessary to engage in an emergency operation.
All bills have been assigned to their respective Transportation Committee for further consideration. All bills still keep alive the current language making it clear that emergency responders are still required to drive with due regard to others and not are relieved from liability for acts committed with reckless disregard toward the safety of others.