Family of Victim of Tragic Van Accident Receives $4.8 Million Settlement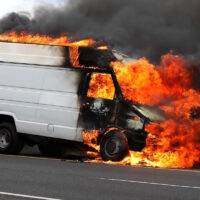 Emergency services vehicles can often be seen passing through intersections against the green, and they have the legal right to do so, as long as the intersection is clear of cars and nearby traffic appears to be aware that the ambulance, fire engine, or police cruiser is oncoming. However, while other drivers are obligated to clear a path for emergency vehicles as quickly as possible, drivers of emergency services vehicles also bear a duty to make sure that traveling against the light is safe to do. The family of a man who was gravely injured in an accident between a New York Fire Department ladder truck and passenger van recently settled with the drivers of both vehicles for the man's ultimate wrongful death from his injuries.
Albert DeFilippo was a 61-year-old resident of Pleasant Plains, New York. He had been a Special Olympics athlete and was traveling with a group of participants in the Lifestyles for the Disabled program when the accident in question occurred on March 9, 2011. He and the seven other van occupants were traveling home from a luncheon and workshop for the participants in the program for intellectually disabled adults. The van had a green light and was turning left from Burgher Avenue onto Richmond Road when the ladder engine traveling on Richmond Road with its lights and sirens activated sped through the intersection and collided with the van. DeFilippo was paralyzed by injuries to his spine in the crash and also suffered fractures to his pelvis, rib, and ankle. He was in pain and bedridden for the following five months until he ultimately died of his injuries in August of 2011. Another passenger, Eric Perry, was killed, and the remaining five were also injured in the crash.
Under New York State Motor Vehicle & Traffic law section 1104, drivers of emergency vehicles have a right to proceed against a red signal, but "only after slowing down as may be necessary for safe operation," and may speed "so long as he does not endanger life or property." That said, under section 1144, other drivers are required to yield right of way and get as far over to the side of the road as possible when an emergency vehicle approaches with its lights and sirens on. In the case of the accident that resulted in DeFilippo's injuries, the court approved a settlement which allocated $3.35 million in damages to Lifestyles, and $1.5 million to the City of New York, as each party was partially responsible for DeFilippo's death.
If you have been hurt in an accident with an emergency services vehicle in New York, seek out experienced and compassionate legal assistance in order to receive full compensation for your medical costs and lost wages by contacting the Goshen personal injury attorneys at Dupée & Monroe for a consultation on your case, at 845-294-8900.