Fatal Auto & Truck Accidents Can Give Rise to Wrongful Death Claims in New York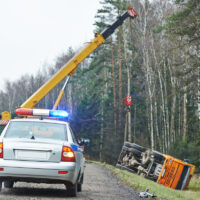 Last month, a Hudson Valley man was killed in an auto accident arising from a crashed semi-truck overturned on Interstate 84. The truck was headed east on 84 in the left lane when it struck the median guardrail near the Town of Kent. The truck's trailer then jumped the guardrail causing the entire rig to overturn and land on the driver side. The victim, driving a Toyota Camry, struck the underside of the semi-trailer, causing both vehicles to become engulfed in flames. The truck driver (who sustained only minor injuries) and another motorist were able to extricate the victim from his vehicle, but he was pronounced dead upon arriving at Putnam Hospital. Read on to learn more about the fatal truck accident and wrongful death.
New York Wrongful Death Law
When a person is wrongfully killed in New York and he or she is survived by one or more people who suffered a loss as the result of the death, the personal representative of the deceased person's estate may file a wrongful death claim to recover damages arising from the death. To establish a claim for wrongful death, you must prove five elements:
A death
Caused by the wrongful conduct of the defendant
Giving rise to a cause of action the deceased could have pursued in court if death had not occurred
Survival by one or more persons who have suffered a loss because of the death
Damages the estate can recover
In the accident described above, the victim's estate could potentially bring a wrongful death claim against the truck driver, the trucking company he worked for, the truck manufacturer, and even the entity responsible for maintaining I-84, depending on what caused the truck to strike the median guardrail. At the very least, the truck driver should have had enough control over this rig to avoid running off the road, and employers are responsible for their employee's actions while on the job. If an issue with the truck or the roadway contributed to the accident, additional parties, like the truck manufacturer or government agency, could be held liable.
The damages available in a New York wrongful death case depend on the specific facts demonstrated in the claim. Examples of recoverable losses include funeral and burial expenses, medical care expenses related to the deceased person's final injury, lost wages and benefits, the value of support and services provided by the deceased, and lost inheritances suffered by surviving children.
Speak with an Experienced New York Wrongful Death Attorney
If you are the personal representative of a person killed in an accident, or a surviving family member needing legal advice on wrongful death claims in New York, please contact Dupée & Monroe, P.C. We'll thoroughly assess your potential claim, identifying the parties who may be held responsible for your tragic loss.