Filing a Wrongful Death Claim in New York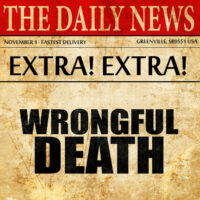 Losing a loved one before their time can be devastating not only emotionally, but also financially. If that death was the result of negligent, reckless, or even deliberate conduct by another person or corporation, the deceased person's heirs may have a right to money damages through a wrongful death claim. However, filing a wrongful death lawsuit may not be as straightforward as you'd think. Learn more below about how wrongful death lawsuits are filed in New York, and contact an experienced wrongful death attorney in Orange County and the mid-Hudson Valley.
Who can file a wrongful death claim in New York?
While the proceeds from a wrongful death lawsuit will go to the deceased person's beneficiaries, family members cannot file a wrongful death claim on their own behalf in New York. New York law mandates that only the personal representative of a deceased person's estate can file a wrongful death claim. A personal representative is the person appointed by the court to oversee the process of probate of the decedent's estate. Often, the personal representative is named in the decedent's will, and the judge will officially appoint that person to be the personal representative for the probate process. If the will does not designate a personal representative, or if the person died without a will, the judge will appoint a personal representative of their choosing.
The first step in filing a wrongful death claim, therefore, is to initiate the probate process. This is done by submitting the will to probate, or if there is no will, then by the deceased person's spouse or child filing a petition for administration of the estate. An estate planning and probate attorney can guide you in this process. Once probate begins and a personal representative has been designated, that personal representative must file a claim for wrongful death within two years of the individual's death before the right to file a claim is permanently lost.
What do plaintiffs have to prove to win a wrongful death lawsuit?
Not all accidental deaths result in a claim for wrongful death. The personal representative must prove that the death was caused by someone else's wrongful actions, that the deceased person would have had a claim for damages against that wrongful actor had the decedent survived, and that the death resulted in a financial loss for the decedent's surviving spouse or family members. Wrongful death actions are intended as a means of seeking compensation for the losses resulting from the death, such as:
Funeral costs
Lost income that would have been earned by the decedent
Damages for the decedent's pain and suffering
Lost parental guidance and care
Lost inheritance
Payment for the costs of medical care for the decedent incurred prior to their death
Experienced New York Personal Injury Attorneys can Help with Wrongful Death Claims
If you need help with a wrongful death claim after the untimely passing of a loved one in New York, contact the compassionate and professional Goshen wrongful death lawyers at Dupée & Monroe for a free consultation at 845-294-8900.