Fires, Injuries Caused by Hoverboards Mounting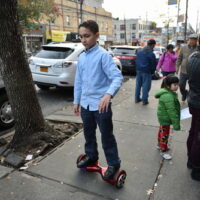 If you're a social media user, you may have seen the many "hoverboard fails" documented in videos on Twitter and Vine, showing riders (especially parents) taking a tumble while attempting to learn how to use the self-balancing motorized scooters that were the hit of the holiday season. The devices are actually capable of causing a great deal of damage, both while being ridden and even while being charged, spurring at least two lawsuits and dozens of visits to the emergency room.
Hoverboards are illegal on the streets or sidewalks of New York City, and they have also been banned on many college campuses nationwide, due to risks posed both to the riders and nearby pedestrians. Certain models of hoverboard can reach speeds of 12 or more miles per hour, which is fast enough to cause a painful injury to a collision victim. Additionally, victims of hoverboard injuries claim that the manufacturers do not make it clear how poorly the devices handle riding over uneven surfaces. The wheels on many models are so small that a slight rise of a quarter or half inch can cause the boards to stop dead, while riders' momentum carries them forward and onto the ground. The US Consumer Product Safety Commission (CPSC) reports that 70 individuals have sought emergency medical care for injuries received while riding the scooters, and the agency has issued a warning to riders to always wear safety gear such as a helmet and wrist guards while riding a hoverboard.
The CPSC's concerns with the safety of hoverboards don't end with rider injury. Possibly more concerning is the tendency of these devices to burst into flame, often while charging. Over 60 airlines have banned the boards from passenger luggage, due to the risk that the lithium-ion batteries used in hoverboards will explode or catch fire in transit. The British equivalent of the CPSC ordered that all hoverboards be recalled throughout the UK after receiving numerous reports of hoverboard-related fires. One New York man who purchased a hoverboard for his daughter has now filed a class action lawsuit in federal district court. His suit was filed against hoverboard manufacturer Swagway and Modell's, the sporting goods store where he purchased the device, and claims that the defective hoverboard started a fire in his home on the first night he attempted to charge the device. The man is seeking damages on behalf of himself and other purchasers of Swagway hoverboards who were not warned of the possibility that these devices would burst into flames while charging, despite having knowledge of that risk. Another couple has filed a lawsuit in Alabama state court after the hoverboard they purchased at a mall kiosk caught fire in their home. In all, the CPSC is investigating 22 reported fires started by hoverboards, and is conducting independent research on the devices to determine whether hoverboards are safe enough to remain on the market.
If you or someone you know has been hurt while riding a hoverboard in New York, contact the experienced Goshen personal injury attorneys at Dupée & Monroe for a free consultation on your claims, at 845-294-8900.