Goshen School Bus Driver Found Intoxicated on the Job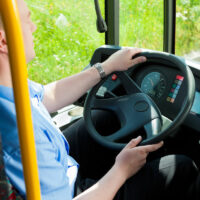 A school bus driver working for the Goshen Central School District was suspended following his failure of a random drug test that was administered in between his bus runs on Thursday, April 23rd. Rick McCormack, age 61, admitted to ingesting pain killers and muscle relaxers after testing positive for alcohol.
The school district immediately contacted police following McCormack's breathalyzer results, which were registered at .03 BAC. The police responded by filing a criminal complaint against the driver, who had just delivered approximately 30 students between ages 6 and 12 to school.
Needless to say, parents were mortified upon learning of the incident. "It is terrible," said Diane Nikeshin, herself a parent of a child enrolled in the Goshen Central School District. She continued, "I mean, my heart is pounding. You have trust in those individuals. I mean, that's your child. So that's really disappointing."
School District Claims No Sign of Any Further Cause for Concern
While acknowledging the severity of the discovery, district administrators have repeatedly made statements to both parents and police that the situation is isolated. By law, all district bus drivers must undergo background checks and fingerprint clearance at the time of hire. Furthermore, unannounced random drug and alcohol tests are administered multiple times throughout the year.
Officials say that the situation is being dealt with. "First priority is always the safety and security of our students and staff," said Superintendent Daniel Connor. "It's a sad day for everybody, but I'm glad we do these tests, because the health and safety of our students are the most important thing."
Following the arrest, McCormack has been charged with aggravated driving while intoxicated with children in the vehicle, a violation also known as Leandra's Law, driving while ability impaired by a combination of drugs and alcohol, and endangering the welfare of children. He was arraigned before Goshen Town Justice Kimberly Van Haaster, and sent to Orange County Jail in lieu of $1,500 bail.