Hit and Run Crash Leaves 19-year-old Injured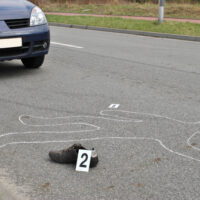 A recent crash in the Dutchess County town of Pleasant Valley has left one young woman injured and led to a hunt for the fleeing driver. Nineteen-year-old Nicole Boyles was driving on Drake Road, roughly a mile west of its intersection with Rossway Road, when a dark red minivan struck Boyles' Honda Civic in a head-on collision. Despite having front end damage, the minivan was able to flee the scene. Boyles was transported to nearby Mid-Hudson Regional Hospital. She is expected to recover.
Unfortunately, Dutchess County authorities were not immediately able to locate the minivan based on witness testimony and available leads. The Sheriff's Office has now reached out to the local Pleasant Valley and Dutchess County communities for assistance in locating the fleeing driver. Based on witness reports, police are looking for one of four different dark red minivan models, possibly missing a headlight, and possibly still damaged from the crash (though hit-and-run drivers often have repairs done immediately after accidents). Those models are the Pontiac Montana, Pontiac Trans Sport, Oldsmobile Silhouette, and Chevrolet Venture. Those with possible information about the crash should contact the Dutchess County Sheriff's Office.
The crime of leaving the scene of an accident can come with serious penalties. In the State of New York, any time you leave the scene of an accident without exchanging identifying information with the other driver, even if there is only damage to the other driver's car and no injuries, authorities can impose a maximum penalty of 15 days in jail and a $250 fine. When the other driver is seriously injured in the crash, however, the act of leaving the scene of an accident becomes a class E felony, with a maximum penalty of four years in prison and a fine of between $1000 and $5000. The criminal penalties the individual will incur do not rule out the pursuit of a personal injury claim in civil court by the victim of the crash, as well.
If you've been the victim of a hit and run accident, it's important that you get a police report from the incident either to make a claim with your own insurance company, or to make a claim with the Motor Vehicle Accident indemnification Corporation commissioner for uninsured motorist coverage, if you do not have your own. Many strict deadlines apply, however, so consider getting in touch right away with an attorney about your potential hit and run car accident claim to ensure that you're able to fully recover for your injuries. The experienced Goshen personal injury attorneys at Dupée & Monroe can help you to get what you deserve via an insurance claim or lawsuit and will provide a free evaluation of your case to determine how you should proceed. From anywhere in the Hudson Valley, call 845-294-8900 to speak with an attorney about your car accident claim.