Construction Accident Injures Three, One Fatally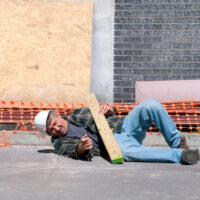 An accident which occurred on a Rochester construction site has caused fatal injuries to one man and left two others injured. The accident is an example of the sorts of tragedies which New York's Scaffold Law is intended to prevent.
The team of construction workers had been assigned to a home in northeast Rochester. The group was tasked with working on the roof of the home, located on Melville Street. The three men were standing on scaffolding supported by ladders when one of the ladders broke. All three men fell and were taken to nearby Strong Memorial Hospital for treatment. While two of the men were later released, a 32-year-old man from Mount Morris later died. Representatives from the Occupational Safety & Health Administration responded to the scene of the accident to begin an investigation.
Falls are the leading cause of death on construction sites, and many of these deaths can be prevented with proper use of modern safety equipment. New York Labor Code § 240, more commonly known as the Scaffold Law, provides that employers and property owners must offer adequate protections to construction workers who are working at a height, or are otherwise doing a job where their safety is affected by gravity. The law offers broad protections to workers who could be injured either by falling from a height or by an object striking them from above, and does not reduce an employer's or property owner's liability if the employee acted negligently somehow in causing the accident. Courts focus instead on the employer's actions: if functional safety equipment was not provided, the worker was injured, and their injuries could have been prevented had that equipment been available and functional, then the employer bears financial liability for those injuries.
The Scaffold law would likely provide a path to compensation for the victims of the recent accident in Rochester, since the failure of a ladder supporting the scaffold on which the men were working resulted in their injuries. However, a full investigation into the incident could provide additional causes, such as negligent installation of the scaffold by a third-party contractor.
If you have been injured in a construction site accident in New York, find out if you may be entitled to compensation for your injuries by contacting the skilled and effective Goshen construction accident lawyers at Dupée & Monroe for a consultation on your case, at 845-294-8900.