Hudson Valley Construction Company Receives Hefty OSHA Fine after Worker Death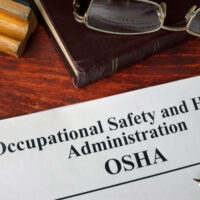 The death of a local worker over the summer has recently resulted in the federal Occupational Safety and Health Administration (OSHA) imposing a substantial fine on the company deemed responsible for the death. Learn more about the accident and its causes below, and contact a knowledgeable Goshen construction accident lawyer if you've been hurt on the job.
Retaining wall collapse injured multiple workers
The accident prompting a federal investigation occurred on August 3, 2017. Two men employed by New Generations Masonry had been subcontracted to work for a New Jersey-based contractor called Onekey LLC. On the day of the accident, the men were working at the former Dutton Lumber site in Poughkeepsie. According to OSHA investigations, a retaining wall collapsed on the site, causing fatal injuries to one man and also injuring another. Ted Fitzgerald, a spokesman for OSHA, explained, "What OSHA found was that the company did not design or have the retaining wall approved by a registered engineer as required. It also failed to train the employees to keep a safe distance from the wall, and it also failed to provide proper fall protection to employees who were working in heights when they were working on the wall." OSHA imposed a fine of $281,583 on Onekey for its failure to follow federal regulations in ensuring worker safety.
Trench and retaining wall collapse a serious threat to worker safety
One of the greatest dangers that can exist on a construction site is the threat of being crushed by soil or loose rock. A cubic yard of soil weighs up to 3,000 lbs—i.e., the weight of a mid-size car—making a collapsed soil retaining wall a grave threat to workers. In order to protect employees from the threat of a trench or retaining wall collapse, OSHA provides extensive regulations on how loose soil should be tested and carefully retained, the specifications of retaining walls, and the provision of safety equipment for workers. When workers are injured because independent engineers or subcontractors put employee lives in jeopardy by failing to adhere to these critical safety measures, these workers may have the grounds to file a lawsuit against those responsible for their injuries.
If you've been hurt on the job in Orange County or Dutchess County and want help getting the money you're owed for your injuries, contact the knowledgeable and dedicated Goshen construction accident lawyers at Dupée & Monroe for a consultation at 845-294-8900.