Kingston Man Indicted for Forging Payroll Checks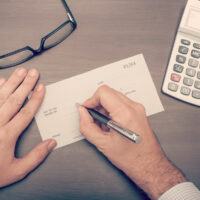 A Kingston man has recently been indicted on felony counts of operating a scheme to defraud businesses by forging payroll checks, enlisting dozens of others to participate in the scheme as well. Learn more about the scheme and the crimes of fraud and forgery below, and contact a seasoned Hudson Valley criminal defense attorney with any questions about charges you may be facing.
Kingston Man Discovered for Forged Payrolls and Fake Credit Cards
In February 2017, local police pulled over DeAndre Green, a 20-year-old Kingston man, for a traffic stop. During this encounter, officers discovered that the driver was transporting numerous forged credit cards and payroll checks. He and a passenger were placed under arrest as the result of the evidence of fraud discovered during the Thruway traffic stop.
Man used social media to recruit participants in fraud scheme
Subsequent investigations revealed the full extent of the fraud. The Ulster County District Attorney's Office learned that Green had constructed a scheme involving theft of checks from mailboxes and, subsequently, the use of social media to enlist participants and victims. Green would convince people to submit their bank account numbers and routing information via social media. He would also seek out paychecks, which he would use as templates from which to draft additional checks.
According to prosecutors, Green enlisted over 65 additional people in the scheme. Green attempted to deposit fake checks totaling nearly $25,000. In total, the scheme resulted in attempts to deposit nearly $800,000 in forged checks, all between October 2016 and January 2017. Green was recently indicted on nearly 30 felony charges, including two counts of carrying out a scheme to defraud and 25 counts of possession of a forged instrument.
Scheme to defraud and possession of a forged instrument are serious charges in New York
An individual can be convicted of felony scheme to defraud when prosecutors can prove that the person intended to obtain property from another person (usually money) on fraudulent pretenses through an ongoing scheme, and that they intended to defraud ten or more people. Conviction can result in up to four years in prison. When coupled with charges of criminal possession of a forged instrument, those convicted could face up to 29 years in prison. Due to the serious nature of these crimes, individuals facing such charges should find seasoned New York criminal defense attorneys to represent them in court.
If you're facing possession of a forged instrument or scheme to defraud charges in New York, speak with knowledgeable and effective criminal defense attorneys about your case by calling the Goshen offices of Dupée & Monroe at 845-294-8900.