Hudson Valley Pedestrian Killed, as Pedestrian Fatality Rates Rise Nationwide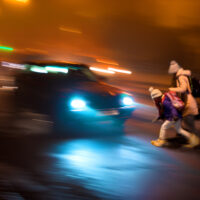 Statistics are showing that more and more pedestrians are dying in traffic accidents across the country, and while increased mileage and lower gas prices are a part of the cause, experts believe the real culprit to be distracted driving. These statistics strike close to home, as a recent accident in the region left a pedestrian fatally injured.
A report recently released by the Governors Highway Safety Association (GHSA) revealed that, in 2016, pedestrian traffic accident fatalities rose by 11%, to a nationwide total of 6,000. The GHSA described this jump as the largest-ever increase in pedestrian fatalities within a single year. It also marks the highest number of pedestrian deaths in over 20 years.
Since more and more cars come with automated crash-prevention features, experts had expected that the number of pedestrian deaths would decline accordingly, so the fact that this has failed to happen is concerning to experts. While low gas prices and a stronger economy explain part of the rise, many believe that distractions among both drivers and pedestrians are to blame for the stark increase. When speaking with the media, National Safety Council representative Maureen Vogel explained, "We have noticed over the years increases in the number of injuries related to distracted walking — pedestrians being distracted by cellphones and then injuring themselves because of that distraction. So it's entirely possible that is at play, not just on our roadways but on our sidewalks."
That said, speed and failure to yield remain the top two causes cited for pedestrian fatalities on the road. An increase in speed greatly increases the odds of a pedestrian being killed. While a pedestrian struck by a car going 20 mph has a 10% chance of dying, if the car is going 40 mph, those chances increase to 80%. Additionally, crossing somewhere other than a crosswalk, or at night, greatly increases the odds of serious injury to a pedestrian. Seventy-two percent of all pedestrian fatalities occurred when the person on foot was crossing somewhere other than an intersection, and 74% happened at night.
Locally, a 64-year-old man from Red Hook in Dutchess County was killed while on foot outside his vehicle. The man had pulled over onto the shoulder on the Exit 11 off-ramp from the I-84 east. He exited his car, and both he and his car were struck by an approaching vehicle, driven by an 18-year-old Sandy Hook resident. The victim was pronounced dead at the scene of the accident, and the crash remains under investigation.
If you have been injured in a pedestrian accident in New York, contact the dedicated and trial-ready Goshen personal injury lawyers at Dupée & Monroe for a consultation on your case, at 845-294-8900.