Lane-Departure Warning Touted as Life-Saving Feature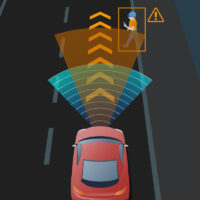 In the past few years, auto manufacturers have developed numerous vehicle safety features, many of which are available only when purchasing add-on packages. Determining which features are effective in preventing auto accidents, and which are unnecessary, isn't always easy. New research shows that lane-departure warning systems are one of the former—a safety feature that holds the potential to prevent thousands of accidents each year.
Feature not commonly offered on standard car models
Lane-departure warnings may be irritating, but they are successful in preventing accidents. The feature uses sensors to detect when a car swerves or veers out of its lane of traffic, providing a warning to the driver in the form of a vibrating seat or steering wheel, or an audible alarm. Many drivers choose to disable the systems because they find it a nuisance to hear or feel an alarm whenever they're changing lanes. Only about six percent of all new 2017 vehicles had a lane departure warning installed, and 57% offered it as an add-on feature.
Lane-departure warnings effective in reducing crash risk
Despite their ability to irritate, lane departure warnings may be capable of saving a great many lives. The Insurance Institute for Highway Safety (IIHS) released a report on studies of the effectiveness of the feature, which concluded that it was a worthwhile expense when available. According to the IIHS' report, lane-departure warning systems reduce the risk of an injury accident by 21% and limit the total number of collisions by 11% among cars with the feature installed. If every vehicle had this feature, these results indicate that the feature could've prevented almost 85,000 accidents, causing 55,000 injuries, in one year alone.
The feature may, in fact, be even more effective in preventing crashes than the study indicates. The IIHS report was based on studies looking at the crash rates of vehicles that came equipped with lane-departure warning systems, but not on vehicles which researchers were certain had the feature activated at the time of a crash. In fact, prior research has shown that, among tractor-trailers with lane-departure warning systems installed and activated, crash rates decreased by 53%.
If you or someone you love has been injured in a side-swipe or other auto accident in New York, find out if you're owed money damages for your injuries by contacting the skilled and effective Goshen personal injury lawyers at Dupée & Monroe for a consultation at 845-294-8900.