Legislature Introduces Changes to New York Scaffold Law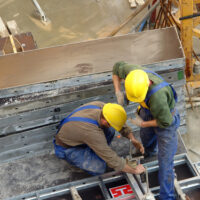 New York has long had a policy of strict liability for contractors who violate safety regulations at the expense of their employees. Construction workers who are injured in a fall or other elevation-related accident can recover damages for their injuries from the contractor responsible for the site. If the contractor's safety violation was a proximate cause of the accident, then the worker does not have to prove any other fault, and the contractor cannot claim in defense that the employee was also negligent or somehow responsible for the accident. That long-established system may change if a new bill introduced this year gets through the legislature.
Assembly Bill A3104 would add a new section to New York Civil Practice Law and Rules. The new section 1414 would change the law from strict liability to comparative negligence for any personal injury or wrongful death action brought under Labor Law Sections 240, 241 (1-5), or 241A – the provisions of New York's Scaffold Law requiring scaffolds, ladders, slings, ropes, hoists, planking, fences and other safety equipment to prevent falls from heights – where certain conduct of the employee was a proximate cause, or contributing factor, to the accident. In such cases, the amount awarded to the injured worker would be reduced by the amount of negligence allocated to the worker in the case.
A3104 was introduced to the Assembly and referred to the Judiciary Committee on January 23. A companion bill in the Senate, S111, was introduced and referred to the Senate Judiciary Committee on January 9. Neither bill has passed out of committee to this date, so perhaps neither bill will become law anytime soon. These bills should be watched very closely, however, since they would cause a major shift in New York Labor Law to the detriment of the injured worker.
Experienced New York Construction Accident Lawyers Fight For Workers' Rights
If A3104 or S111 become law, it will be much harder for injured workers to receive compensation for their injuries which may have been prevented had the contractor followed established safety laws. Personal injury and wrongful death attorneys with experience representing New York City construction workers who have been the victims of ladder falls, scaffold collapses, and other elevation-related accidents can provide invaluable assistance in making sure injured workers are fairly and adequately compensated.