Man Arrested for Second DWI after Hitting District Attorney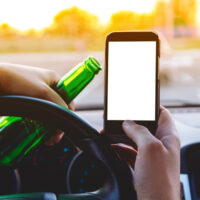 A Hudson Valley man was recently arrested on the charge of driving while intoxicated after hitting a car containing the local district attorney. The accident could result in felony charges for the man.
Crash on Route 66
The accident occurred on State Route 66 south of Metz Road in the town of Ghent at about 8:45pm. Columbia County District Attorney Paul Czajka was headed south on Route 66 in his Volvo sedan when a Chevrolet pick-up truck, driven by Bruce Nooney, pulled out of a private driveway. Nooney's truck struck Czajka's Volvo in the side, essentially T-boning the sedan and causing it to skid across the lanes of traffic into the northbound lane and strike a rock wall on the road's east side. Nooney was transported to Columbia Memorial Hospital after complaining of back and neck pain. Czajka told emergency personnel that he had shoulder pain, but declined treatment at the time of the crash.
Arrest on multiple charges
Nooney refused to take a field sobriety test or Breathalyzer at the time of the accident. Instead, police later obtained a blood sample to estimate his blood alcohol level at the time of the crash. He was arrested and, since he had previously been convicted of a DWI within the past ten years, charged with Felony DWI. Nooney was also charged with refusal to submit a breath test and failing to yield the right of way when entering a roadway.
Felony charges for driving while intoxicated carry a maximum fine of $5,000 and four years in jail, as well as a mandatory year-long license revocation. The charge of refusing a chemical test carries its own year-long license revocation, along with a $500 civil penalty. Those who have previously been convicted of a DWI can face even greater penalties for refusing a chemical test. If the refusal comes within five years of a prior DWI conviction, the individual could receive a license revocation lasting 18 months, as well as a civil penalty of $750. Additionally, misdemeanors that are alcohol-related are subject to a $260 penalty. A seasoned New York criminal defense attorney can help those facing DWI charges to obtain limited driving privileges that will allow them to continue getting to school or work, while that attorney fights to have the charges dropped or reduced, depending on the facts of the case.
If you're facing misdemeanor or felony charges relating to alcohol or drug-influenced driving in New York, get help fighting for your freedom by contacting the knowledgeable and determined Goshen criminal defense lawyers at Dupée & Monroe, at 845-294-8900.