Manhattan District Attorney Pursues Criminal Charges in Response to Death of Worker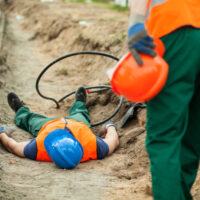 The rate of construction site accidents in New York has soared in recent years, most troublingly including accidents resulting in a fatality. While construction has been booming in New York throughout this time, injury rates have increased at a much faster pace. The Manhattan District Attorney's Office has begun to take action against negligent general contractors who fail to follow important state and federal safety regulations, placing their workers in harm's way. One contractor in particular was found guilty of criminal charges at trial after one of its laborers suffered a tragic and preventable death on one of its job sites.
It is the Meatpacking District site of a future Restoration Hardware store which has served as somewhat of a symbol of the safety crisis on New York construction sites. It was there that Carlos Moncayo, a 22-year-old Ecuadorean immigrant, was killed in a trench collapse in April of 2015. According to eyewitness accounts and email evidence, private investigators had spent months warning the site's two managers, one working for general contractor Harco Construction, and one a representative of excavation subcontractor Sky Materials, of the dangerous conditions on the site. Investigators had been particularly concerned with the large trench on the site, which, despite reaching depths of up to 14 feet, lacked any fortification. On the day of the trench's collapse, inspectors again warned the managers that the trench had become dangerously deep and required supports to prevent a collapse. While the Harco site manager eventually told the workers, in English, to leave the pit, the largely Spanish-speaking workers remained in the trench. Shortly thereafter, the walls of the trench collapsed, killing Moncayo.
Following this incident, Harco Construction faced criminal charges of criminally-negligent homicide, second-degree manslaughter, and reckless endangerment. The company pled not guilty to the charges, and the case went to trial. In June of this year, the New York court found Harco guilty and imposed the penalty of forcing the company to pay for public safety announcements that address worker safety. Harco has thus far refused to comply with the order. The two site managers who refused to take action after numerous warnings of the poor safety conditions on the site have also been indicted on criminal charges, and will soon face trial.
Numerous provisions of both federal and state law were created to shield workers on New York construction sites from this sort of harm. New York Labor Law § 200 lays out the duty possessed by owners and contractors to ensure that the workplace is safe for employees, but even more specific rules exist that hold negligent site managers and third-party contractors accountable. In particular, New York Labor Code § 241(6) imposes liability on contractors for violations of specific implementing regulations included in Industrial Code Part 23. The New York State Industrial Code Part 23-4 on excavation operations requires that trenches deeper than five feet use some form of sheeting and shoring system to prevent the exact sort of collapse accident which took Moncayo's life.
If you've been injured in a New York construction accident, seek the compensation to which you're entitled by contacting the determined and knowledgeable Goshen construction accident attorneys at Dupée & Monroe for a consultation on your case, at 845-294-8900.