Manslaughter Charges Filed in Orange County Accidental Shooting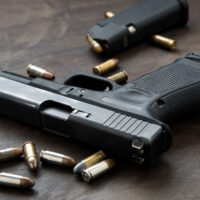 Last August 16, 2013, a report of an accidental shooting led the Town of Cornwall and New York State Police to a Salisbury Mills home where they found Kristi L. Babcock fatally injured from a gunshot wound. Babcock was a resident of Cornwall who worked for the Town of New Windsor as a Recreation Aide.
Babcock and her boyfriend, Christian J. Benson, were handling Benson's handgun, and it apparently accidentally fired while being handed over from one person to the other. Last week Benson was arrested and charged with manslaughter in the incident. He has entered a plea of not guilty and has been released on his own recognizance pending his trial in Orange County Court.
Under section 125.20 of the New York Penal Code, the crime of manslaughter in the first degree requires that one person cause the death of another while acting with intent to cause serious physical injury to another person. A person can be found guilty of manslaughter in the second degree when he recklessly causes the death of another person. Manslaughter in the first degree is a class B felony, with a possible 25 years in prison, and Manslaughter in the second degree is a class C felony which carries a sentence up to 15 years in prison upon conviction.
If the state is trying to prove manslaughter in the first degree, they will have to show that Benson had a conscious objective to cause serious injury. For the second degree charge, proving recklessness means proving he was aware of and consciously disregarded a substantial and unjustifiable risk, constituting a "gross deviation" from the standard of conduct of a reasonable person in the same situation. If this was truly an accident, one would think even recklessness would be hard to prove, but the prosecutors must think they have a strong case to have arrested and charged Benson. With a felony conviction and a long-term prison sentence at stake, hopefully Mr. Benson will take this charge very seriously and find excellent legal representation for his defense.