Mother Charged for Drugged Driving in Incident that Killed Young Son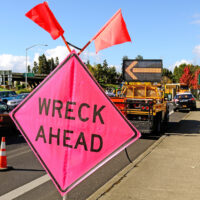 A Hudson Valley woman has recently been charged with driving under the influence of drugs and manslaughter after she crashed her car while her young son was a passenger.
On March 19, 2016, Nicole Smith, 27, a Bloomingburg resident, was driving with her 2-year-old son as a passenger. Smith attempted to pass another car by crossing the double yellow line while traveling on Route 17K in Montgomery. Unfortunately, in doing so Smith hit the other car, sending Smith's car off the road, into an embankment, and ultimately into a tree. Her son was thrown from the car and passed away from his injuries. At the time of the crash, Smith was found to have a number of drugs in her system, including Methadone, a pain killer commonly used to treat heroin addiction, and Alprazolam, an anti-anxiety medication also known by the brand name Xanax. Smith was indicted in Orange County Court on charges of aggravated vehicular homicide, vehicular manslaughter, criminally negligent homicide, aggravated operating a motor vehicle while under the influence of drugs, and reckless driving. Smith remains in jail, with bail set at $250,000 cash or $500,000 bond.
Many New York drivers do not realize that driving after taking even prescription medication can be a crime. New York law makes it illegal to drive while ability is impaired. Many prescription drugs, even when taken correctly and after being prescribed by a doctor, can make an individual drowsy or inattentive and dangerous on the road. Having a prescription for the medication impairing the driver's ability, or taking the medication as directed, will not serve as a defense to a charge of driving impaired. If a police officer sees someone driving in an unsafe way that follows the pattern of an intoxicated person, that driver can be arrested regardless of whether they've been drinking. Should a chemical test of that driver's blood, breath, or urine reveal the presence of prescription drugs, they can be charged with driving while ability impaired by drugs, or DWAI Drugs. Many DWAI Drugs charges stem from drivers taking painkillers like hydrocodone and oxycodone, both of which can slow reaction times and reflexes and impair judgment. To avoid a charge of DWAI Drugs, err on the side of safety and do not drive after taking prescription medication, especially if you are not yet aware of how a new prescription medication will affect you.
If you have been charged with a crime in the Hudson Valley, seek out dedicated and knowledgeable legal help to represent you in court, and contact the Goshen DWAI and criminal defense attorneys at Dupée & Monroe for a consultation on your case, at 845-294-8900.