Motorcycle Accident Takes Life of Local Business Owner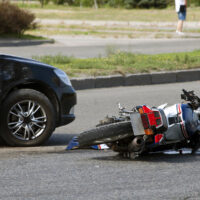 Alberto Rivera, a 44-year-old resident of Thiells, recently died in an accident while riding his motorcycle. Rivera was the owner of Personal Touch Auto Spa and Window Tinting located on Old Route 202 in Pomona for over ten years. He leaves behind a wife and children.
On the evening of May 18, 2016, Rivera was riding west on Route 202 on his 2002 Suzuki motorcycle. Traveling east on Route 202 was Jonathan Kaufman, 47, a Monsey resident, in his 1999 Volkswagen Passat. Kaufman turned left in Rivera's path onto Thiells Mount Ivy Road, but left an insufficient amount of time for Rivera to avoid colliding with the Passat. Rivera hit the car's passenger side and was thrown from his bike. Rivera was taken to Nyack Hospital, where he was ultimately pronounced dead. Local police have not yet filed charges against Kaufman, but they are continuing to investigate the fatal accident.
Motorcycles are highly vulnerable to the sort of accident that occurred in this case. Since motorcycles present a smaller object in the visual field, it can be more difficult to determine their speed. Many passenger vehicle drivers who are not paying proper attention misjudge an oncoming motorcycle's speed and, thinking they have sufficient time to make the turn rather than patiently waiting for the motorcycle to pass, will turn left in front of an oncoming motorcycle. Since the motorcycle was traveling faster than the other driver realized, the motorcyclist lacks the time to avoid an accident and either collides with the vehicle or swerves to avoid a collision and loses control of their bike. Passenger vehicles can in this way cause serious injuries when cutting off motorcyclists even without making contact with the bike itself. Passenger vehicle drivers are urged to watch for motorcycles, and to carefully estimate their speed before turning in front of an oncoming bike.
If you're a motorcycle rider who was seriously injured in an accident with a negligent or distracted driver, get the compensation you need to recover fully from your injuries and care for your family by contacting the knowledgeable and experienced Goshen personal injury attorneys at Dupée & Monroe for a no-cost consultation on your case, at 845-294-8900.