New York Man Killed in Forklift Accident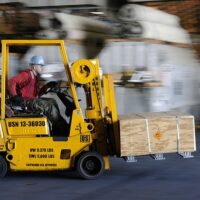 A local man was recently killed in an accident involving a forklift. The accident is a tragic reminder of how common forklift accidents are on the job, and how important it is for employers to train their workers and offer protections from these types of injuries.
Accident at FDNY facility
On Saturday, February 11, a 28-year-old worker at the FDNY parts depot in Long Island City was moving boxes using a forklift. The man is believed to have put the forklift in neutral to retrieve something from his van nearby. The forklift, however, was on an incline. The machine rolled backward, crushing the man against his van. He was located by police, who found him unconscious and unresponsive at 12:35 pm. The man was transported to Elmhurst Hospital before being pronounced dead. An investigation into the circumstances behind the crash is ongoing.
Over a tenth of forklifts involved in accidents
Forklifts are one of the most dangerous pieces of equipment on the job site. Out of the approximately 850,000 forklifts in the US, an estimated 11% will be involved in an accident at some point. According to the Occupational Safety & Health Administration, there are over 90,000 forklift accidents nationwide, with over 34,000 resulting in serious injuries. Each year, about 85 forklift accidents are fatal.
Training and maintenance are crucial
Roughly a quarter of all fatalities caused by forklift accidents result from the victim being crushed between the forklift and another surface, and 11% from being crushed between two vehicles. The biggest single cause of fatal accidents, however, is the forklift tipping over, typically after being improperly loaded. Experts estimate that 70% of all injuries caused by forklift accidents could be prevented by providing proper training to employees on forklift use. Additionally, proper maintenance of tires, brakes, lifts, hydraulics, and the forklift's horn can save the lives of workers.
If you've been injured on the job in New York, such as in a forklift accident, crane accident, or other construction site or industrial accident, find out if you have a claim for money damages based on your injuries by contacting the knowledgeable and dedicated Goshen workplace injury lawyers at Dupée & Monroe for a consultation on your case, at 845-294-8900.