Orange County District Attorney Advocates for Liability for Adults Allowing Minors to Drink on Property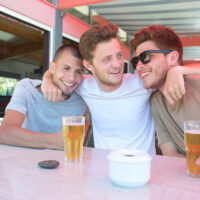 The recent death of a young man at a party in Orange County has brought renewed attention to the issue of making property owners criminally or civilly liable for underage persons drinking alcohol on their property. Soon, homeowners may face a civil fine or even jail time for allowing underage drinking to occur at their homes, and they already face the threat of a lawsuit under New York law for providing alcohol to underage drinkers who end up getting hurt.
At a house party in Crawford on New Years' Eve, the college-aged daughters of Mark and Neta Mitchell held a party at their house while their parents were out of town. Local police estimate that some 80 to 120 revelers attended the party that night, most of which were students or recent graduates of Pine Bush High School, with cars lining the residential Paddock Drive. New York State Police trooper Steven Nevel states that alcohol was served at the party. At some point, a fight broke out among the attendees. Twenty-year-old volunteer firefighter and 2014 graduate of Pine Bush High School Justin Speights attempted to break up the fight but in doing so was stabbed to death by an assailant who remains at large.
In the aftermath of Speights' death, Orange County District Attorney David Hoovler has drafted a proposed law for consideration by the Orange County Legislature which would make it illegal for anyone over 18 to allow minors to drink in their home or on their property. Minors would be defined as those under 21, for purposes of the law. Violators could incur a $250 fine for a first offense, a $500 fine for the second offense, and a $1,000 fine and/or a year in jail for a third offense.
Under current New York state law, adults who know that alcohol is being served in their home face no criminal consequences. However, homeowners may still face a financial penalty for allowing minors to drink in their homes. Under New York state law, if an adult provides alcohol to underage drinkers, or helps persons under 21 obtain alcohol, and one of those underage persons is injured or killed, then there's a right to sue that adult for those injuries or wrongful death. Victims can sue for medical expenses, lost wages, pain and suffering, or wrongful death where an adult provides alcohol for those under 21, or knowingly helps those under 21 to purchase alcohol.
Neighboring Ulster County enacted its own measure imposing liability on adults who serve alcohol to minors in 2008. A tragic incident likewise spurred that county's governing body to act: a young man driving home drunk from a party along with a friend was involved in a single-car crash which killed his passenger and sent the drunk driver to prison on a three-year sentence for manslaughter. Ulster County thereafter made it illegal to serve alcohol to minors in a private home. Fourteen other counties in New York have laws imposing criminal penalties on adults providing alcohol to minors, including Sullivan, Westchester, and Putnam counties.
If you or a loved one have been hurt by another's negligence and need help recovering the compensation you're owed for your injuries, contact the Goshen personal injury lawyers at Dupée & Monroe for a consultation, at 845-294-8900.