Orange County Woman Free on $100,000 Bail in Hit-And-Run Vehicular Manslaughter Case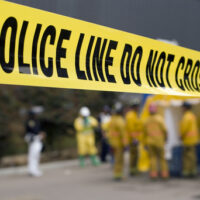 Linda Ibrahim of Cornwall recently pled not guilty in an arraignment in Orange County court, where she is charged with several criminal offenses arising out of a hit and run that killed Eric Geter in New Windsor in January. The criminal charges include misdemeanor Driving While Intoxicated (DWI), as well as felony counts of Second-Degree Manslaughter, Second-Degree Vehicular Manslaughter, Second-Degree Assault, Leaving the Scene of a Fatal Crash and Tampering with Physical Evidence. Since Ibrahim appeared for her arraignment, the prosecutor did not object to continuing bail at the $100,000 amount set after her initial arrest.
Civil Liability for Hit and Run Drivers
Hit and Run is a serious criminal offense, especially when injury or death occurs, as attested by the number of criminal charges brought against the defendant in the case above. Of course, a hit and run driver faces civil liability for his or her actions as well. How the civil claim is handled depends upon the insurance coverage involved.
Hit and Run Accidents and MVAIC Claims
A pedestrian who is struck by a hit and run driver (or the family of a deceased hit and run victim) may file a claim through the Motor Vehicle Accident Indemnification Corporation (MVAIC), part of New York's no-fault insurance system. The first step is to complete and file a Notice of Intention to Make Claim form (NOI), describing the accident, the injuries and expenses incurred, and a description of the vehicle and driver, if possible. A copy of the police report and a copy of the denial or disclaimer of coverage should be attached, if applicable.
The next step is to file an application for Motor Vehicle No-Fault Benefits (NF-2), again describing the accident and injury, including names of treating physicians, the amount of medical bills so far accumulated, and whether future medical expenses are expected. There is also a Household Affidavit that must be completed and signed in the presence of a notary describing other people who lived with the victim at the time of the accident. MVAIC generally applies when nobody in the household owned a vehicle at the time of the accident; otherwise, Uninsured Motorist coverage may apply.
Uninsured Motorist Coverage and Hit and Run Accidents
If you have liability insurance on your automobile, you may well have Uninsured Motorist (UM) coverage as well. If you were injured in a hit and run and do not know the vehicle which struck you or the identity of the driver, you can file a claim with your insurance company under your UM coverage. Related types of coverage include Underinsured Motorist (UIM) coverage when the driver who struck you was insured, but the policy limits are inadequate to fully compensate you, and Supplementary Uninsured Motorist (SUM) coverage, which was developed by the Insurance Department to close gaps in coverage across the different types of UM and UIM endorsements issued by different insurance companies.
All hit and run accidents should be reported to the police within 24 hours or as soon as is reasonably possible under the circumstances.