How to Prepare for a Court Appearance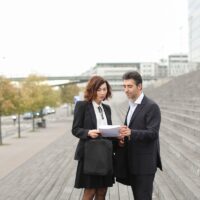 Appearing in court after an arrest can be an extremely intimidating proposition. However, as long as you take the matter seriously and get help from a seasoned New York criminal defense attorney, the process itself does not have to be overly oppressive or threatening. Below we offer a few tips for appearing in court after an arrest.
Preparing in Advance
If you have been arrested, the first thing you should do when you get the chance is to call a lawyer. They will investigate and find out the charges pending against you and will give you advice and representation throughout your case.
Before your initial court appearance and in advance of any other court appearance, it is important to do your research. Speak with your attorney to make sure that you understand the nature of your case, including:
● The specific charges you are facing
● Your options at the appearance and for your case (at an initial appearance, pleading guilty, not guilty, no contest, or other options)
● The punishments you may face for conviction
● Other consequences of a conviction, including with regard to immigration, professional licensing, housing, employability, and other issues
● Ask your attorney what types of plea bargains are typically offered to people in your position, and what happens if you contest the charges
By the time you are on the stand, if you decide to testify, you should know what you plan to do. You should have discussed the matter in advance with your attorney so that you know your options, and you should consider your attorney's advice about your situation.
Additionally, it is a good idea to take care of any logistical issues ahead of time. Call the court ahead of time, if possible, or speak with a court clerk when you arrive if you need assistance, such as a wheelchair or an interpreter. If you struggle with English, having an interpreter is generally a good idea.
Making a Good Impression
In addition to taking care of all of the technical and legal issues in advance of your court appearance, it is crucial to make a good impression with the judge, the prosecutor, and depending on the court appearance, the jury. Being responsible, professional, and respectful can go a long way in seeking bail, negotiating a favorable plea, or convincing a judge or jury of your good nature. Think of a court appearance like a job interview, and you will be off to a good start.
Here are a few tips to ensure that you present yourself in the best light:
● Do your best to appear formal: Dress nicely, shave, comb your hair, etc. The more you can show that you are taking the matter seriously, the better.
● Get to the courthouse early, by at least 30 minutes, to give yourself time to get through security and find your way to the courtroom. Plan your route to the court ahead of time to avoid any delays. Take the day off from work so that you are not worried about being at the courthouse for too long.
● Be courteous and professional to the judge, the prosecutor, and any other courtroom personnel you interact with. Turn off your phone, avoid chewing gum, etc. Avoid interrupting the judge, and when you do speak, make sure you speak loudly enough to be heard.
● Try to avoid speaking with any co-defendants or other possible criminal associates.
● If there is anything that the judge asks or states that you do not understand, you can and should state that you do not understand and ask them to repeat themselves.
Goshen Criminal Defense Lawyers Serving Orange County and the Hudson Valley
If you have been arrested for DWI, drug crimes, or other criminal charges in New York, contact the knowledgeable and compassionate Goshen criminal defense lawyers Dupée & Monroe at 845-294-8900 to fight for you.