Question of Ownership Determines Liability in Orange County Construction Accident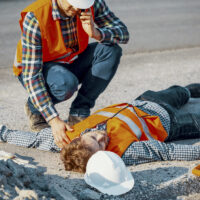 Last year the attorneys at Dupée & Monroe obtained a judgment of liability in favor of our client who was seriously injured in a construction accident in Orange County. Our client was installing metal roofing on a pole barn being constructed when the purlin he was standing on broke. Our client fell 20 feet to the ground, breaking his femur, hip, ankle, elbow and back.
Construction site injuries involving falls from heights are governed by New York Labor Law section 240(1). This law holds that contractors and owners are strictly liable when a worker is exposed to an elevation-related risk and is injured because of the failure to provide appropriate safety devices.
Dupée & Monroe was able to get a summary judgment in favor of the plaintiff on the issue of liability by convincing the judge that our client was entitled to judgment as a matter of law. One particularly complex aspect of this case was identifying the proper owners or contractors who bear responsibility for the accident. At the time of the accident, Eugene Pirog, the person who owned the property where the barn was being built had died. He had willed the property to his wife, but she renounced her claim to the property, so it went instead to Ed Garvey, Pirog's business partner, in accordance with the terms of the will. The property was actually deeded to E&L Farms, which was a company wholly owned by Garvey and formed for the purpose of taking ownership of the property.
Pirog & Garvey Excavating Corp. (P&G) hired Lounsbury Builders to supply all labor and materials for the project. Garvey was listed as the owner of the property on the building permit application, which also listed Garvey and P&G as the general contractor (Garvey was the sole owner of P&G at the time of trial), but Lounsbury Builders was truly the general contractor. The court found that Garvey was liable as the owner, and Lounsbury was liable as the contractor.
The case was Barrett v. Dennis Lounsbury Builders, Inc., decided in the Supreme Court, Orange County, on June 18, 2013. Lounsbury and Garvey continue to argue which of them is liable and whether one is entitled to indemnity from the other.