Recent Changes to New York's Gun Laws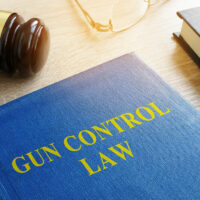 New York is not the most gun-friendly state. Possession of a loaded handgun outside of the home or a concealed weapon requires a license, and the state does not recognize licenses issued from other states. The state has made efforts to ensure that obtaining a handgun permit is challenging, and a laundry list of factors can disqualify a person from even applying. One of New York's more onerous limitations on gun ownership was recently struck down by the United States Supreme Court as unconstitutional. The state quickly responded by enacting a revised law. To learn about the prior law, the Supreme Court case, and New York's new gun laws, read on. If you've been arrested for a firearms-related offense in Goshen, the Hudson Valley, or New York City, call a knowledgeable New York firearms and weapons defense lawyer for advice and representation.
Supreme Court Strikes Down New York's Gun Licensing Law
New York law requires residents to possess a license to carry a handgun in the state. Based on a 100-year-old state law, applicants were required to demonstrate "proper cause" to obtain a concealed carry permit.
On June 23, 2022, the Supreme Court struck down New York's law in a ruling expected to undermine gun laws across the country. The Court held that the Second Amendment to the U.S. Constitution protects an individual's right to carry a handgun in public for self-defense, a right that was violated by New York's restrictions on public possession. New York's law gave the state too much discretion in denying permits based on an administrative officer's evaluation of "proper cause."
The 6-3 ruling split the Court along ideological lines. Justice Thomas wrote for the majority, chastising the state for its permit policy: "We know of no other constitutional right that an individual may exercise only after demonstrating to government officers some special need." Per the opinion, states may not deny law-abiding persons a carry permit for failing to show "proper cause" or similar requirements.
The Court did not rule that all gun restrictions are inherently suspect. The Court held that states may still prevent firearms in "sensitive places," such as government buildings. Courts should evaluate whether there is a historical basis for treating a particular location as a "sensitive place": Courts "can use analogies to those historical regulations" of sensitive places to determine whether a restriction is appropriate. Other restrictions that are sufficiently analogous to historical precursors may also be upheld. Concurring opinions from the Court's other conservative justices suggested that requirements such as background checks, fingerprinting, firearms training, and mental health checks are still permissible.
In his dissent, liberal Justice Breyer addressed concerns and ambiguities that may arise under the new rule: "So where does that leave the many locations in a modern city with no obvious 18th- or 19th-century analogue? What about subways, nightclubs, movie theaters and sports stadiums? The court does not say."
The ruling will directly impact gun restrictions in at least six states, including New York, California, Maryland, Massachusetts, Hawaii, and New Jersey, as well as the District of Columbia.
New York Quickly Responds With Revised Law
New York State officials wasted little time following the Court's decision. Calling the ruling "absolutely shocking," Governor Kathy Hochul worked with lawmakers to quickly enact a bill modifying the state's gun permit laws. On July 1, Governor Hochul signed into law Senate Bill S51001. The bill amends the relevant gun licensing rules to, among other things:
Eliminate the "proper cause" requirement
More explicitly define the "good moral character" requirement as meaning the applicant has the "essential character, temperament and judgment necessary to be entrusted with a weapon"
Criminalize possession in an enumerated list of "sensitive places," such as libraries, government buildings, public parks, hospitals, and schools
Expand the application and background check process to include, for example, an interview with a licensing officer, submission of social media accounts, and moral character references
Require more in-person firearms safety and gun range training
Although the revised law no longer requires an applicant to show proper cause to need a firearm, the state now requires additional scrutiny during the application process. Whether the increased scrutiny will survive future legal challenges remains to be seen.
Seasoned Legal Help Fighting Your New York Firearms and Weapons Charges
If you have been arrested for unlawful possession of a firearm or other serious criminal offenses in New York, call Dupée & Monroe, P.C., to get help from a zealous criminal defense lawyer. From our offices in Goshen, we represent clients charged with all manner of criminal offenses in Orange County and throughout the Hudson Valley.