Recent Hudson Valley Car Accidents Highlight Need for Careful Driving in Winter Weather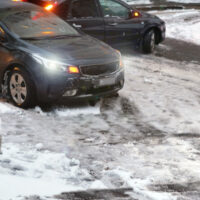 If you're a longtime resident of New York's Hudson Valley, you may consider yourself an expert in navigating roads hit by wintry precipitation. A flood of recent car accidents shows that not everyone is quite so skilled at navigating roads hit by ice and snow. Read on to learn more about the toll that the ice and cold has taken on local roads, and for a refresher on safe driving during winter storms. Contact a knowledgeable Goshen personal injury lawyer if you or someone you love is injured in a wintertime car accident.
Winter storms batter Orange County and surrounding areas
The recent cold front that has pounded the east coast has left its mark on Orange County and the surrounding areas. Residents have been subjected to numerous storm advisories, and have not escaped unscathed. During one recent snowy day, Dutchess police responded to 41 accidents involving property damage and eight causing injuries to drivers. State troopers in the area received reports on 101 disabled vehicles along the sides of local highways. Roads were left blocked and impassable by disabled tractor-trailers and passenger vehicles, and even Metro-North commuters faced delays due to falling snow.
Safely navigating snowy roads
Get your car ready: Icy and wet roads demand a lot of a car. Make sure yours is ready to brave the elements by seeing to it that your tires are fully inflated and have sufficient tread, since bald and soft tires are much less likely to maintain traction with the road. Also make sure that your car's windshield wiper blades aren't cracked or damaged, and that your brakes are working properly.
Allow more time to reach your destination: If you're short on time to get where you're going, you'll feel more tempted to drive faster than is safe under the current conditions. To avoid driving dangerously, leave more time than usual to make your commute.
Leave plenty of space between yourself and other cars: Not only will it take longer to bring your car to a stop when roads are slippery, you're also more likely to encounter a hazard such as a patch of black ice that could send your car out of control. To give yourself enough time to retain control and slow your car down when roads are icy, leave more space between you and the other vehicles on the road.
For help getting the damages you deserve after a New York winter weather accident, contact the dedicated and seasoned Goshen personal injury lawyers at Dupée & Monroe at 845-294-8900.