Can You Seek Damages in an Elevator Accident?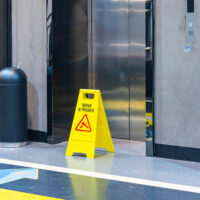 New York City is famous for its high-rise buildings. Within each building is an elevator. We trust building owners and construction companies to install and maintain elevators appropriately, given the risk of catastrophic injury should anything fail. Unfortunately, not every building owner or operator takes their responsibility seriously, and elevator accidents do happen. When elevators crash, people get hurt. Read on to learn about obtaining compensation after an elevator collapse. If you or a loved one has been hurt in an elevator accident in Goshen, the Hudson Valley, or New York City, reach out to a dedicated New York elevator accident lawyer for help.
New York Law Imposes Strict Rules for Elevator Safety
New York has many laws in place meant to protect people against elevator collapse. Most recently, the state passed the Elevator Safety Act, which requires anyone who designs, builds, inspects, maintains, or repairs elevators to be licensed by the state. The law went into effect in January 2022. There are several other building codes and safety regulations that apply to the construction and maintenance of elevators, including requirements for inspection, reporting, maintenance, and other items.
If a building owner or operator fails to adhere to state-mandated standards for elevator construction, maintenance, and other safety requirements, they can be held liable for any accident that occurs as a result. Failure to follow safety standards is strong proof of negligence in a personal injury claim.
Holding the Right Parties Liable After an Elevator Accident
If you were injured in an elevator accident, you might be able to seek compensation for your medical bills, your lost income, your pain and suffering, and other damages. In order to obtain damages, you need to identify who is legally responsible for your injuries. If another party was at fault for your accident, you can seek damages from that party.
After a New York elevator accident, many parties could be held liable. Depending on the circumstances, you may be able to obtain compensation from one or more of the following:
Building owners and property owners
Landlords
Business owners or other lessees
Building maintenance groups
Employers
General contractors
Subcontractors
Elevator maintenance companies
Government agencies
Liability turns on who had legal control over the elevator and who was at fault. If the accident occurred because the building owner or lessee failed to conduct proper maintenance, then that party is responsible for any accident that results. If you were hurt on a construction site, the contractor or sub-contractor responsible for constructing or maintaining the elevator might be to blame. If the elevator in a completed building was faulty when constructed, the general contractor, subcontractor, and property owner could all be partially or jointly liable, as any one of those parties should have identified the problem.
Talk to an experienced elevator accident attorney about your claims. Your lawyer can investigate the circumstances of the elevator accident, identify which party or parties may be legally responsible, and hold them to task for their failures and the harm you suffered as a result.
If You've Been Hurt in an Elevator Accident, Dupée & Monroe Is Here to Help
If you need help getting medical treatment and compensation for the harm you suffered in an elevator or scaffolding collapse, or if you are pursuing another negligence-based claim in New York, contact the dedicated and trial-ready Goshen personal injury lawyers Dupée & Monroe for a free consultation at 845-294-8900.