Serious Six-Vehicle Accident Takes One Life, Injures Others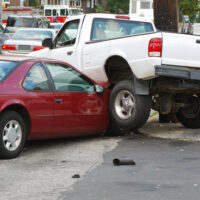 A massive six-vehicle pileup near the site of some bridge work on Interstate 84 resulted in one death, numerous injuries, and hours of gridlock traffic for commuters. The crash occurred at Exit 5 in Montgomery, near the construction project on Beaver Dam Road.
The crash occurred on a portion of westbound Interstate 84 limited to one lane of traffic, due to the nearby construction. Traffic slowed to a crawl near the accident site. Four of the vehicles involved in the crash – a Hyundai Santa Fe, a Freightliner semi-truck, a Mitsubishi Outlander, and a Sprinter van—were already stopped in the gridlock traffic. A Dodge pickup truck followed not far behind, slowing down as it approached the stopped car ahead. Traveling behind the Dodge was another Freightliner. For reasons not yet determined, the Freightliner failed to realize that traffic had stopped, attempted to brake hard, but collided with the rear end of the Dodge. The Dodge rolled over, striking the median, as the Freightliner continued careening forward. The Mitsubishi and Sprinter were both sandwiched between the two Freightliner trucks, killing the passenger in the Sprinter. The front-most Freightliner was pushed forward, into the rear of the Hyundai. Emergency personnel spent hours extracting victims from the crushed vehicles, and at least four medical evacuation helicopters visited the crash site.
The New York Vehicle and Traffic Law calls on drivers to operate their vehicles with reasonable care, traveling at a speed that takes into account the traffic and weather conditions on the road at that time. Under Vehicle and Traffic Law section 1129 (a), it is illegal to follow another vehicle too closely, taking into consideration the condition of the road and the presence of traffic. This law exists to prevent drivers from being injured in accidents such as this one, where a vehicle encounters slowing traffic unexpectedly but was traveling too closely behind the vehicle in front of them to come to a stop in time to avoid a collision. One witness to the Interstate 84 crash reported seeing 20-foot-long skid marks left by the tires of the rear-most Freightliner truck leading up to the site of the initial collision. Juries are encouraged by the legal guidance provided through New York's Pattern Jury Instructions to find a driver negligent where skid marks lead up to a crash, unless the defendant driver can provide another plausible reason for the skidding. A skilled New York attorney can use evidence from the scene of a crash, such as photographs of the road itself and the position of the vehicles after the collision, to prove liability.
If you've been hurt in a New York truck accident and need help getting the money you deserve for your injuries, contact the Goshen personal injury lawyers at Dupée & Monroe for a consultation on your case, at 845-294-8900.