Side-Impact Crashes Result in Serious Injuries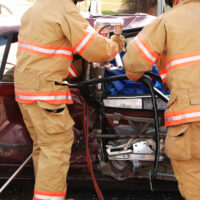 Recently, we shared some information with you on intersection accidents and the common reasons they occur. One of the most common forms of collision that occurs at intersections is the side-impact collision. Read on for more information on side-impact collisions, and speak with an experienced New York car accident attorney if you've been hurt in a side-impact crash.
Side-impact crashes are responsible for a substantial portion of traffic deaths
Side-impact collisions occur any time that a car or truck is hit on its side panel, but they can take numerous forms. Accidents where two cars impact one another on their side are known as lateral-impact crashes. If a driver impacts a car traveling at a 90˚ angle to them head-on, this is often known as a broadside or T-bone collision. This is considered to be one of the most dangerous types of motor vehicle accidents. To that point, around 25% of all motor vehicle accident fatalities are caused by side-impact collisions, and a third of all child motor vehicle fatalities are caused by this form of collision.
Why side-impact crashes happen
Many side-impact collisions result from a driver failing to yield the right-of-way to another driver. For example, a driver who blows through a red light after traffic has begun to move, or fails to yield at a stop sign, could cause a T-bone collision. Lateral-impact crashes often result from a car departing from its lane unintentionally, or from a driver failing to check their blind spots before switching lanes. They can also result from a driver who fails to yield at a highway on-ramp. These failure-to-yield accidents could often be prevented by a driver dedicating their full attention to the road in front of them.
Broadside crashes have a tendency to cause serious injury in their victims due to the fact that, unlike vehicle front- and rear-ends, car doors lack the fortitude to withstand the force of impact of an oncoming vehicle. While safety improvements have been made to the impact-absorbing abilities of cars' front and rear ends, fewer such improvements have occurred to car doors. When larger trucks hit smaller, lower cars, the larger vehicle will often collide with the lower car's window rather than the door, which provides even less protection to vehicle occupants.
If you or your loved one has been injured in a side-impact collision in New York, get a free consultation to find out if you're owed money for your claims by contacting the knowledgeable and seasoned Goshen personal injury lawyers at Dupée & Monroe, at 845-294-8900.