Sullivan County Raid Results in Arrest of 21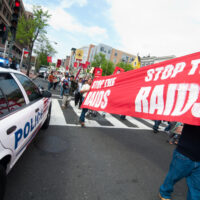 Preet Bharara, the federal prosecutor assigned to the Southern District of New York, recently announced the unsealing of an indictment which charges 21 local citizens with committing drug offenses relating to two separate drug rings operating out of the Village of Liberty in Sullivan County. This is the third recent large-scale bust occurring in Sullivan County, with 27 individuals arrested in a heroin ring bust in March of 2016 being prosecuted in Sullivan County court, and almost 40 people involved in drug rings being arrested in July of 2015 who are being prosecuted in federal court.
The 21 individuals implicated in the indictment were all taken into federal custody on the morning of May 17, 2016 and will be prosecuted before the federal US District Court in White Plains. According to a press release from the US Attorney's Office for the Southern District of New York, the defendants were all allegedly participants in either a conspiracy to distribute heroin in the Village of Liberty and elsewhere in Sullivan County, or in a conspiracy to sell crack cocaine, or in some cases, alleged to have participated in both drug sale rings. The heroin distribution ring, which is alleged to have begun in 2015, was said to have been led by Kyle James and Jamar Shaw, at different times. Two of the individuals arrested for participating in the heroin sale ring were also charged with having carried firearms in furtherance of the conspiracy, which will add additional mandatory time in federal prison, should they be found guilty.
The bust was carried out with participation from the US Attorney's office, the Sullivan County Sheriff's Department and District Attorney, the FBI, the New York State Police, and local police in the Village of Liberty and the Village of Monticello. Diego Rodriguez, the assistant director for the field office of the FBI, described heroin as "spreading through our communities like a cancer." He noted that heroin sales were even alleged to have occurred outside of a local drug recovery treatment center.
Sadly, one woman caught up in the ring was Cindy Conklin, a resident of Livingston Manor and a member of the Liberty school board. Conklin was charged with two counts of criminal possession of a controlled substance and one count of criminal possession of a hypodermic instrument, which are misdemeanors. While school board members are required to resign when convicted of felonies, there is no such requirement for those convicted of misdemeanors. Conklin has so far retained her seat on the school board. Her term expires in 2017.
If you or a loved one is facing drug charges in the Hudson Valley, contact the skilled and dedicated Goshen criminal defense attorneys at Dupée & Monroe for a consultation on your case, at 845-294-8900.