The Point System: Driving Violations in New York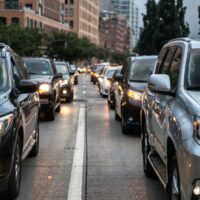 New York drivers who are convicted of traffic violations will have "points" added to their driving record. Accumulation of these points can lead to many consequences, including fines, insurance rates, and suspension or revocation of driving privileges. Every driver in New York needs to understand how the point system works in order to avoid unnecessary liability and consequences. Continue reading to learn about how New York's driver point system operates, and reach out to a seasoned New York criminal defense attorney if you are facing New York driving offense charges.
Points and Suspension
New York's Department of Motor Vehicles (DMV) assigns points to a driver's record when they are found guilty of certain driving violations. Accumulation of points can dramatically affect insurance rates, and accumulating enough points can lead to a driver's license being suspended. Points will remain on your driving record for 18 months.
Drivers who accrue at least six points will face additional fines. Additional points lead to heavier fines, which can be assessed annually. If a driver reaches 11 total points, their license will be suspended. Driving while suspended can lead to complete license revocation. Because points last only 18 months, your point total will only cover the 18 months prior to your latest violation.
Points are not assessed for all traffic violations. Certain violations can lead to fines but no points on your record, including:
Violations incurred while parked or parking
Violations incurred as a pedestrian
Violations relating to the operation of a vehicle while unregistered, unlicensed, or uninsured
Violations concerning vehicle dimensions, inspections, or equipment
Violations not resulting from the operation of a motor vehicle
Common Prohibited Activities and Point Penalties
Many driving violations can lead to points on your record. Some of the more common violations and the point values assigned by the DMV include:
Speeding

1-10 MPH over the posted speed limit: 3 points
11-20 MPH over the posted speed limit: 4 points
21-39 MPH over the posted speed limit: 6 points
40+ MPH over the posted speed limit: 8 points

Reckless Driving: 5 points
Railroad Crossing Violation: 5 points
Improper Use of a Cell Phone: 5 points
Use of a Portable Electronic Device: 5 points
Failure to Yield Right-of-Way: 3 points
Improperly Passing or Making Unsafe Lane Changes: 3 points
Child Safety Restraint Violation: 3 points
Following Too Close (Tailgating): 4
There are a large number of other driving violations with varying point values. Talk to a knowledgeable driving offense defense lawyer about your citation to find out what points and other penalties you could face and for assistance in fighting the charges.
Points Are Assigned at Conviction
It's important to keep in mind that points are not assigned at the time you are pulled over or given a citation for a driving violation. The points are assessed when you are convicted of the violation, but they will be retroactively assigned to the date of the violation. Paying the fine without contesting the violation in court is considered to be a conviction, and points will be assessed. You have the right to contest a violation in traffic court and avoid having the fines or points assessed if successful in your challenge.
How to Prevent License Suspension
Points on your driving record are not permanent. As noted, points only stay on your driving record for 18 months. Additionally, taking a certified Defensive Driving Course or Motor Vehicle Accident Prevention Course can help you avoid license suspension pursuant to the Point and Insurance Reduction Program (PIRP).
Taking a covered course will cause four points to be subtracted from your driving record for the purposes of calculating a suspension if you have 11 or more points. It's important to note that these points are not actually removed from your record; they are simply subtracted when calculating whether you face a license suspension. Taking such a course will, however, reduce your insurance premiums, even if your points are not actually taken off.
Build a Strong Defense Against Hudson Valley Driving Offense Charges
If you have had your driver's license suspended or you've been arrested on charges in New York, call Dupée & Monroe, P.C., to get help from a knowledgeable New York criminal defense lawyer. From our offices in Goshen, we represent clients charged with all manner of criminal offenses in Orange County and throughout the Hudson Valley.