Upcoming Change in Federal Regulation May Allow Larger Double Trailers on US Highways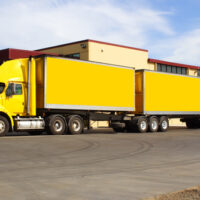 In a rider to a bill funding the US Department of Transportation, several federal regulations on commercial trucking have been changed in ways that could be both safety improvements and possible hazards. The appropriations bill has been approved by the committee of the US Senate that oversees the Department of Transportation, after a similar bill was approved by the House of Representatives earlier this summer. If approved by the full Senate and President Obama, these changes would take effect in October of 2015.
The bill included a mandate for the Federal Motor Carrier Safety Administration (FMSCA) to create two important new safety rules within 60 days of the appropriations bill taking effect. One of those rules would mandate use of electronic logging devices in trucks. Currently, drivers are permitted to use paper logs, which are more easily falsifiable. Electronic logging devices, on the other hand, are attached to the engine in such a way that any driving done will be reflected on the log. The FMSCA has been examining and considering rules on electronic logging devices since 2011, without reaching a final rule. The second change in the appropriation bill will force the FMSCA to create a rule mandating speed limiters in large trucks. Many hauling companies already use these devices, but making them universal would go even further toward making highways safer.
Stirring the most debate and concern was the portion of the bill that will allow semis to pull twin 33 foot trailers on all highways that are part of the National Highway System. A tractor pulling two 33 foot trailers (called a "twin 33") is 85 feet long in total; in contrast, the average car is only 17 feet long. Only 11 states currently allow twin 33's on their highways. Many public officials, including New York Senator Charles Schumer, have expressed concern about the danger of these trucks, which require 20 feet longer to come to a complete stop than even tractors pulling two 28 foot trailers, which is the current standard length for trucks pulling twin trailers. The federal rules would override any state laws barring the trucks. New York is one of the states that bans these trucks, which are as long as an eight-story building is tall. State departments of transportation would need to apply for a special exemption for each passage of highway that it has deemed unsuitable to be traveled on by the gigantic trucks. It is not yet clear how difficult obtaining such exemptions would be, since the current law allows for such trucks to be barred entirely from a state's roads and highways.
Large trucks, semis, and tractor-trailers are estimated to be involved in 25% of all accidents involving a fatality in the US each year. If you or someone you love has been injured in a crash with a large truck, find an attorney who understands the nuances of litigation against trucking companies. Contact the Hudson Valley law firm Dupée & Monroe P.C. for a consultation on your claims at 845-294-8900.