What to Do if Someone Sues After NY Car Accident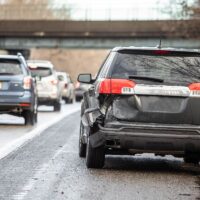 If you've been in a traffic accident and someone else is trying to blame you, you need to make sure your insurance company is notified so they can start building a legal defense as soon as possible. If you suffered any injury or damage in the crash, it's equally important to get a lawyer on your side to see look into the critical issue of fault. Below, we discuss a number of important considerations to keep in mind if you're being sued after a car crash. If you've been hurt in a traffic accident in the Hudson Valley, call the zealous NY car accident injury attorneys at Dupée & Monroe in Goshen for advice and representation after a New York car accident.
No-Fault and the Serious Injury Threshold
New York utilizes a no-fault insurance scheme for auto accidents. The law requires all drivers to maintain minimum levels of insurance, including a minimum level of no-fault personal injury protection (PIP) coverage. After a typical car accident, each party files a claim with their own insurance company, regardless of who was at fault.
If another driver claims that you were at fault for a car accident, they are still required to file a claim with their own auto insurance company under their PIP coverage, unless they have grounds to get out from the no-fault scheme. Injured victims can escape the no-fault limitations if they can prove they suffered a "serious injury" in the crash.
New York law explicitly defines several "serious injury" categories. These include broken bones, significant disfigurement, permanent impairment to or loss of a bodily organ or bodily function, temporary disability (significant impairment to daily functioning), and loss of a fetus.
If you are being sued by another driver or passenger after an accident, they'll need to prove they suffered a serious injury. If their medical records do not bear this out, they do not have grounds to sue you and must instead rely on their no-fault coverage.
Comparative Negligence in New York
Even if the other party did suffer a serious injury and they can prove you were negligent, that might not be the end of the matter. If you suffered a serious injury as well, you could have grounds to counterclaim. At the least, you may have grounds to reduce your liability, should you be able to prove that the other party was partially to blame for the accident.
Under New York's comparative negligence rules, a plaintiff's recovery will be offset by their percentage of fault for the incident. If, for example, you drove through a stop light and collided with another driver, but that driver was texting at the time of the accident, a jury might decide you were 70% to blame for the crash and the texting driver was 30% to blame. Whatever the texting driver can claim in damages (let's say $10,000) will be reduced by their portion of fault (30% of $10,000, or $3,000, for a potential total recovery of $7,000).
Moreover, New York follows a "pure" comparative negligence rule. In New York, you can recover compensation for your injuries even if you were the one mostly (over 50%) at fault. If you suffered $100,000 in damages in the example given above, your recovery would be reduced by your 70% share of the blame, for a total possible recovery of $30,000. Even though you were "more" to blame than the other driver, because your damages were much higher, you could end up with a significant net recovery.
Collecting the Right Evidence
Defending against allegations that you were at fault and proving the other driver was partially or totally to blame requires collecting and producing the right evidence. Start keeping copies of all documents generated in connection with the car accident. Gather evidence at the scene, if you are able, and keep copies of anything else that comes along.
Relevant, useful evidence includes:
Photos of your injuries, the vehicle, and the other driver's injuries
Photos of the surrounding area
Traffic camera footage
Witness statements
Police reports
Medical bills
Medical records
Communications with your employer about your injuries and/or missing work to recovery
Communications with the insurance companies and the lawyer for the other party
Talk to Your Personal Injury Lawyer
Ultimately, if you've been involved in a car accident, you want to get a lawyer on your side. Even if you think you might be the one at fault, you need a seasoned car accident attorney on your team. They'll help you reconstruct the accident, gather the relevant evidence, and determine whether the other driver might be partially or completely to blame. If you have any potential claims for damages, they'll help you maximize your recovery.
If you need help with obtaining medical treatment and compensation for the harm you suffered after a serious crash, or if you are pursuing another negligence-based claim in New York, contact the thorough and comprehensive Goshen traffic accident lawyers of Dupée & Monroe for a free consultation by calling 845-294-8900.