When Should You Update Your Child's Car Seat?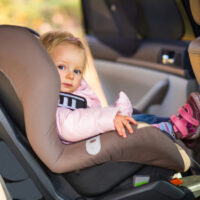 Using an appropriate car seat for your child is critical when your child is a small infant, and it remains critically important until your child has grown enough to use only a seatbelt. Making the decision on when to change out your child's safety seat for one that is more appropriate for their age and size isn't always straightforward. Read more below on how to decide when is the right time to get a new car seat for your child.
Make sure the seat is comfortable for your infant
If you decided to follow the suggestions of both the State of New York and many safety experts, you purchased a rear-facing seat for your newborn infant. Most rear-facing safety seats have a weight limit of 30 lbs; as a result, many parents wait until their child reaches that weight before changing their child's safety seat. In many cases, the child will become too tall for a rear-facing seat before they become too heavy, making riding in these seats uncomfortable. If this is the case, it may be time to switch to a rear-facing convertible seat, which will also accommodate your child as they switch to riding while facing the front.
Make sure the seat isn't damaged
Over time, your child's safety seat may experience wear and tear that can make it less safe in the event of a crash. Straps may begin to fray, buckles may break, or elastics may lose their tension. Give your child's seat a once-over on a regular basis to avoid using a seat that is no longer safe to use. The seat might also need to be replaced if it has been involved in a serious accident. If the crash was merely a rear-end accident and the car remained driveable afterward, then it is most likely still safe to use. If the vehicle needed to be towed from the scene of the crash, if the airbags were deployed by the impact, or if the vehicle door nearest the car seat was damaged in the collision, then the NHTSA recommends getting rid of the safety seat in the car at the time of the crash.
Check the expiration date
You might not know it, but all car seats come with an expiration date, typically printed in the seat's manual. An expiration date can prevent parents from using a seat whose components have become too old to be reliable, and can prevent use of a secondhand seat that has been subject to a recall for which the current owners weren't notified.
If your child has been hurt in a crash in New York and you believe you may have a right to damages, find out if you should file a claim by contacting the experienced and effective Goshen personal injury lawyers at Dupée & Monroe for a consultation, at 845-294-8900.