Woman Dies in Head-On Crash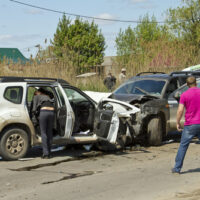 A local woman died recently as a result of a head-on crash. The 78-year old Hurley resident was pronounced dead after a crash occurring on U.S. Route 209 in Marbletown.
On Sunday, April 3, the woman was the passenger in a car being driven by her 81-year old husband. At approximately 5:10 pm, as the car traveled southbound on Route 209 near Pine Tree Lane, a car traveling in the northbound lane crossed the center line and collided with their car.
The car crossing over into the victims' lane was driven by a 39-year old resident of Stone Ridge. All three individuals were taken to HealthAlliance Hospital's Broadway Campus in Kingston. Both drivers had suffered non-life threatening injuries and were transferred to Albany Medical Center for additional treatment. The unfortunate passenger was declared dead at the hospital.
A man who had been driving behind the northbound vehicle had noticed erratic behavior prior to the crash. The man, a Woodstock Town Board member, told local media that he had watched the car swerve on and off the road, repeatedly veering into the opposite lane of traffic. "I knew that something awful was going to happen, and I was right," he stated. The man rushed to the aid of the crash victims after the accident, but was unable to help the car's occupants. So far, no charges have yet been filed against the driver who caused the accident, but state police continue to investigate the incident.
Head-on crashes are an extremely lethal form of accident. While only 2% of accidents are head-on crashes, these accidents account for 10% of all fatalities each year. Head-on crashes are most often attributed to the at-fault driver being intoxicated at the time of the crash. Other common causes include driver fatigue and distractions from cell phones or other electronic devices. With few exceptions, crossing a double yellow line is illegal in order to prevent precisely this sort of tragedy, but if the line-crossing driver was also intoxicated or making illegal use of a cell phone at the time of the crash, they could face punitive damages and criminal charges.
If you or someone you love has been injured in a New York car accident, ensure that you receive the compensation you deserve for your injuries by contacting the experienced and knowledgeable Goshen personal injury attorneys at Dupée & Monroe for a free consultation on your claims, at 845-294-8900.